Pence Wins Approval to Expand Medicaid on Indiana's Terms
Mark Niquette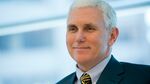 Indiana has won federal approval to expand Medicaid under President Barack Obama's health-care overhaul using a state plan for insuring low-income adults, Republican Governor Mike Pence announced.
Pence, a potential presidential candidate in 2016, has been negotiating with federal officials about expanding the Healthy Indiana Plan that he has said promotes "consumer-driven" care, with features such as required monthly contributions. The Obama administration approved the application for a waiver from Medicaid rules to offer coverage to 350,000 people starting Feb. 1, Pence said in a release.
"We have worked hard to ensure that low-income Hoosiers have access to a health care plan that empowers them to take charge of their health and prepares them to move to private insurance as they improve their lives," Pence said.
An increasing number of the U.S. states that initially opposed expanding Medicaid under the Affordable Care Act are moving to accept it in some form. With Indiana, 28 states and the District of Columbia are implementing expansion, according to the Kaiser Family Foundation, a nonprofit health-research group in Menlo Park, California. Six are discussing it, and 16 aren't moving forward, Kaiser said.
Tempting Insurance
The Obama administration said it is committed to working with states to design programs consistent with the health-care law and its benefits.
"I continue to be encouraged by interest from governors from all across the country who want to bring health care coverage to low-income people in their states by expanding Medicaid," Sylvia Burwell, the secretary of the Health and Human Services Department, said in a release.
Indiana becomes the 10th state with a Republican governor to expand, and Republican-led governments including Tennessee, Utah and Wyoming also are considering it. Advocates said there's pressure to act as hospitals and other groups push for it.
The health-care law required that Medicaid be offered to anyone making less than 138 percent of the federal poverty level, about $16,000 for an individual. The U.S. Supreme Court's 2012 decision declaring the law constitutional made it optional for states to expand the program, which carries the promise of federal funding covering 100 percent of enrollees for the first three years and at least 90 percent after.
Medicaid Albatross
Opponents have said it ties a state to increased spending for the joint state-federal program, and question whether the U.S. government can afford the costs. The issue could be raised during Republican presidential primaries.
Ohio Governor John Kasich, a two-term Republican and potential presidential candidate, expanded Medicaid over the objections of lawmakers in his own party. He faced questions during a tour of western states last week about whether expanding the program is inconsistent with his advocacy of limited government.
Kasich has talked about the need to help people with mental illness and others who "live in the shadows," and Pence billed the expansion as ending "traditional Medicaid" for adults who aren't disabled.
Pence won concessions from the administration, including the authority to charge premiums to very low-income people. At the same time, the administration secured an expansion of insurance in a Republican-dominated state, and federal officials said the concessions aren't far-reaching.
Hoosiers earning less than poverty-level can't have their insurance cut off for not paying premiums. Pence also failed to win approval to require Medicaid beneficiaries to work or show they are seeking jobs.
Pence, a former six-term congressman elected in 2012, has said he won't announce a decision about running for president until the state's legislative session ends in April.
Before it's here, it's on the Bloomberg Terminal.
LEARN MORE