Will 'New Car Smell' Be a Problem for Mike Huckabee in 2016?
He long ago stopped being a fresh face in Iowa, the state that will kick off nomination voting just more than a year from now.
by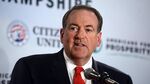 WINDSOR HEIGHTS, Iowa—To the people of Iowa, Mike Huckabee is a known commodity. 
"When he ran back in 2007-2008, the biggest question was who is Mike Huckabee," Huckabee's friend, Terry Amann, said, as he introduced the former Arkansas governor Sunday evening. "He needs no introduction. That's all changed."
Huckabee long ago stopped being a fresh face in Iowa, the state that will start the presidential nomination voting just more than a year from now. While his familiarity—fueled by his 2008 White House run and his recently shelved Fox News program—is one of his greatest strengths as a potential 2016 Republican presidential candidate, it's also a potential hurdle.
"That new car smell" is how President Barack Obama late last year described the desire of voters to sometimes head for something different. Whether Republicans will seek someone newer to the national scene remains unknown, but it's a question even some of Huckabee's supporters are pondering.
"At least he's not running for the third time, like Romney," said Angie Suchan, a Huckabee fan from suburban Des Moines, in a reference to Mitt Romney's possible 2016 White House run.

Suchan was one of about 50 people who turned out for a stop in suburban Des Moines that Huckabee made as part of a national tour to promote his latest book, God, Guns, Grits, and Gravy. Some carried signs reading "Hoping 4 Huckabee" as he arrived on a campaign-style motorhome.
Amann, a pastor at Walnut Creek Church where Huckabee held his book signing event, said he supported Huckabee in 2008 and could again in 2016.
"There will be a lot of competition for evangelical voters," he said. "He's got a tough road ahead of him."
Amann argued that Huckabee's long time on the national stage could be reassuring to some Republicans. "If you are going into surgery, do you want the rookie doctor, or the veteran?" he asked.
Supporters were collecting names, e-mail addresses and phone numbers of those in attendance at the event, a sign Huckabee has more on his mind than just selling books. He told reporters that he received "a lot of encouragement" during his weekend stops in Iowa.

One open question is whether Huckabee, who won the 2008 Iowa caucuses, can raise the kind of money needed to sustain a primary campaign, something he struggled to do in the past.
"Things are going good," said Huckabee's 2008 national campaign manager, Chip Saltsman, who is traveling on the book tour. He declined to provide any specifics on pledges made to a potential campaign.
Asked whether he would compete in the Iowa Straw Poll, should he announce a candidacy, Huckabee hedged.
"It's too early to even talk about the exact pieces of the strategy, but the Straw Poll was great for us back in 2007," he said. "You play by the rules, whatever those rules are, and we'll see how it goes and whether it's a good fit for us to be involved with it."
In the 2007 Straw Poll, Huckabee came in second. The carnival-like political event is held by Iowa Republicans as a fundraiser during the summer before the caucuses.
Huckabee and his sunny style of conservatism had arguably one of the worst speaking slots at a weekend gathering in Des Moines that drew more than 1,200 activists to hear speeches from at least nine Republicans openly exploring presidential bids. He spoke at the end of a long day, although still received one of the warmest receptions. Still, the summit also made clear he will have significant competition for social conservatives, should he run, including from Senator Ted Cruz of Texas.
"Senator Cruz laid down a marker on the ideological right that he isn't going anywhere and will be a force that the likes of past caucus-winners like Senator Santorum and Governor Huckabee will have to contend with," said Matt Strawn, a former chairman of the Republican Party of Iowa.
Like Huckabee, several of the other speakers at the Iowa Freedom Summit are lingering around the state for additional days, a reflection of the early intensity of what's looking to be both a wide open and crowded primary field. Former Texas Governor Rick Perry and former Senator Rick Santorum of Pennsylvania both made multiple Iowa stops on Sunday.
If he does run, Iowa will be central to Huckabee's effort. As a past winner of the caucuses, expectations would be high. Anything short of a top finish, could suggest vulnerability for his candidacy in subsequent states.
After coming from seemingly nowhere in 2008 to win Iowa, he faded in other states for lack of money and organization and ultimately finished a distant second to nominee John McCain in total convention delegates. Four years later, Huckabee contemplated a second bid, but ultimately stayed out to focus on his lucrative broadcasting, speaking and publishing career.
A Bloomberg Politics/Des Moines Register Iowa Poll taken in early October showed Huckabee as the first choice for 9 percent of Republicans who plan to attend the 2016 caucus. That was a stronger showing than for Cruz, former Florida Governor Jeb Bush, New Jersey Governor Chris Christie and several other potential candidates. Roughly six in 10 likely caucus participants held a favorable view of him. Still, Huckabee trailed Senator Rand Paul of Kentucky and neurosurgeon-turned-conservative-activist Ben Carson, as well as 2012 nominee Mitt Romney, who is contemplating a third White House bid.
"There's a base for him that's real," 2012 Republican presidential candidate Newt Gingrich told Bloomberg Politics' Mark Halperin during a live broadcast from the weekend summit in Des Moines. "He's very likable. He knows how to campaign at a tactical level, one on one, which helps you in a lot of these states. But he also understands that he has historically not raised money."
Since his 2008 win, Huckabee has worked hard to maintain his Iowa relationships. He's been back to the state at least once a year ever since then. 
There would be precedent for strong showing by Huckabee on his second try. The modern-era Republican Party has a history of rewarding presidential candidates on their second or third try. McCain, Mitt Romney, Bob Dole, George H.W. Bush and Ronald Reagan all won GOP nominations after failed initial attempts. 
Before it's here, it's on the Bloomberg Terminal.
LEARN MORE