Why Republicans Are Talking About Income Inequality
As concerns about wages and opportunity rise, the GOP has embraced once-Democratic language.
by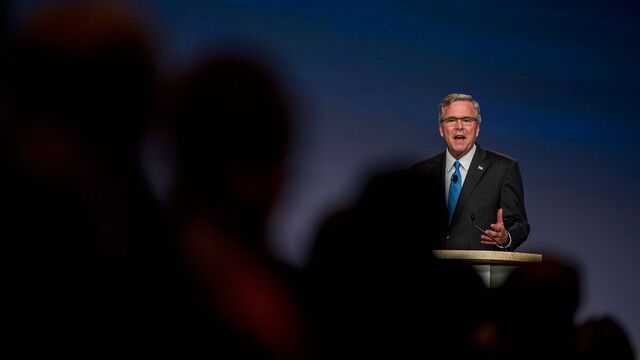 As the Washington political mill began churning in January, one potential presidential candidate issued a missive that took on the issue of income inequality with particular eloquence. "Millions of our fellow citizens across the broad middle class feel as if the American Dream is now out of their reach," it said, "that our politics are petty and broken; that opportunities are elusive; and that the playing field is no longer fair or level."
It wasn't an excerpt from progressive Senator Elizabeth Warren's book or a pitch from Vice President Joe Biden for a middle-class tax break. It was part of a manifesto on the website of Right to Rise, the political-action committee formed by Republican Jeb Bush.
With wages stagnant, concern about wealth distribution increasing, and the president embarking on an aggressive push for the middle class, Republicans aren't just talking about lower taxes and a rising tide lifting all boats. They are making their pitch explicit, with a little help from Democratic rhetoric. They're the right ones to tackle income inequality, they argue, and they won't be afraid to say it.
Some took Bush's statement as another example of his insufficiently conservative politics. But he hadn't strayed far from what fellow Republicans were saying. Alabama Senator Jeff Sessions, who has a lifetime rating of 94 percent from the American Conservative Union, said in an immigration policy memo distributed to Republicans ahead of their retreat in mid-January that they "must define themselves as the party of the American worker, the party of higher wages." 
Senate Majority Leader Mitch McConnell said on 60 Minutes on Sunday that "the so-called 1 percent that the president's always talking about have done quite well. But middle- and lower-income Americans are about $3,000 a year worse off than they were when he came to office." In the same interview, House Speaker John Boehner said Obama's "policies have made income inequality worse."
In July, Representative Paul Ryan's Budget Committee issued a draft anti-poverty plan lamenting that "far too many people are stuck on the lower rungs" of the economy and recommending a combination of reformed social safety nets, state flexibility in education, and decreased regulations. Senator Mike Lee of Utah, meanwhile, has gone even farther, declaring on his website that "the United States is beset by a crisis in inequality" and that "bigger government is not the solution to unequal opportunity—it's the cause."
For all the references to less red tape and slimmer safety nets, conservatives say the rhetoric represents a real shift. "It was always a Democratic issue: Democrats talked about the poor," said Republican messaging guru Frank Luntz, who helped write Newt Gingrich's "Contract With America" and coined the term "death tax." "The Republican language 30 years ago was about 'welfare queens.' ... Now the language is about helping people restore the work ethic."
As recently as December 2011, when the Occupy movements were grabbing headlines, Republican presidential candidate Rick Santorum could say he was "for income inequality" because it was the natural outgrowth of capitalism. "I think some people should make more than other people, because some people work harder and have better ideas and take more risk, and they should be rewarded for it," Santorum said at an Iowa campaign stop, according to the Des Moines Register. 
The next year, the conservative National Review labeled income inequality a "myth."
But many Republicans found the approach wanting.
"It doesn't take a political genius to look at the 2012 election and realize that a message excludes a major chunk of voters is one that will not receive wide appeal," said Dan Holler, communications director for the conservative group Heritage Action for America.
Republicans' pivot to this message by late 2014 is "part of" the reason they were so much more successful in the midterm elections, says Bryon Allen, partner at WPA Opinion Research, which has worked with several Republican lawmakers. "It's going to be a big part of what's going to drive 2016," he said.
"Polling has always shown that people think it's getting worse rather than getting better," Allen said. He added that the "working-class and populist" electorate that has driven GOP gains in recent cycles is particularly concerned about the message.
In a poll by Gallup in January, 69 percent of Americans describe themselves as dissatisfied with the "way wealth and income are distributed in the U.S."
It helps explain why many in the GOP have moved away from portraying those at the bottom of the income ladder as living large on others' dimes. The solution, they say, isn't Obama's taxes or minimum-wage increases, even if the language comes from the Democrats. It's getting government and other elites out of the way so the economy can create jobs, especially for the middle class, including blue-collar voters.
Hence the rhetoric from Boehner, Lee, and Ryan (whose mentor was Reagan-era tax cutter Representative Jack Kemp). It's also why Colorado Senator Cory Gardner, a freshman who has taken on the terms "haves" and "have-nots," responded to Obama's economic populism in Tuesday's State of the Union by saying that in 2016, Republicans have to address paychecks and inequality. "We have to make sure that we address issues of wage stagnation," he said in an interview after Obama's speech. "We must focus on making sure that people are earning more."
Even Mitt Romney told the Republican National Committee on Jan. 17 that "under President Obama, the rich have gotten richer, income inequality has gotten worse and there are more people in poverty than ever before," insisting that "we have to make sure and provide opportunity for all Americans regardless of the neighborhood they live in." It was a stark contrast to the 2012 candidate who said in a famous leaked video that he could "never convince" the 47 percent of Americans who don't pay income tax that "they should take personal responsibility and care for their lives." He also told CNN that year that he was "not concerned with the very poor" because of the social safety net.
"We sound a lot like Elizabeth Warren sometimes," said Allen. But, he says, the idea is just in the air. "It's gonna be a big part of what's going to drive 2016."
Still, the new push is not just about prioritizing the needs of the working class, according to Ian Prior, a spokesman for the National Republican Congressional Committee. "When Republicans talk about the middle class or wages, it's because they know they've been hurt most of all by Obama's policies," Prior wrote in an e-mail. "The goal is an economy where everyone has the opportunity to rise up."
Democrats are skeptical, saying Republicans' rhetoric may have changed but their policies are still the same.
"Republicans in Congress refuse ending tax loopholes for special interests to give the middle class a tax cut," Josh Schwerin, a spokesman for the Democratic Congressional Campaign Committee, wrote in an e-mail. "That tells you all you need to know about their credibility on the issue."
And Republicans taking the message to the stump may find it still needs finessing, as some of the backlash to Bush's statements suggests. "I think it's fair to say that the would-be Republican candidates will have a pretty big hurdle," Holler said. (So may presumed Democratic frontrunner Hillary Clinton, for that matter, if Republicans are proven right about her challenges connecting to average people in 2016 if she decides to run.)
Nonetheless, Holler said, "it's definitely a message you're going to see more of."
Even if the parties' solutions are radically different, the conversation is now underway,  Luntz said.
"In one sense it's a meeting of the minds," Luntz said. "It makes me hopeful that they're addressing the same issue."
Before it's here, it's on the Bloomberg Terminal.
LEARN MORE