White House Tells Alaskan Senator to Chill Out on ANWR
The war of words between the Obama administration and Senator Murkowski shows no signs of cooling down.
by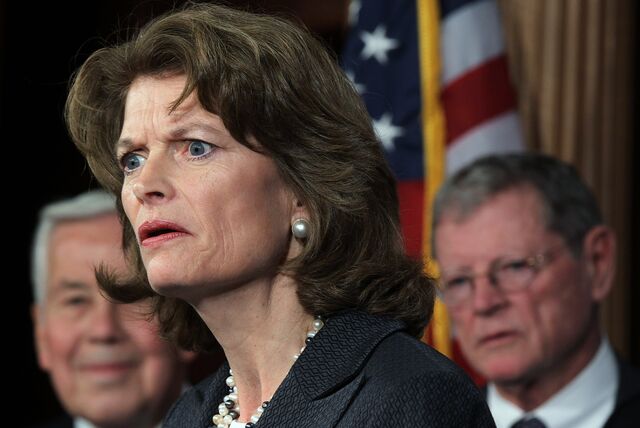 The White House has a message for Alaska Senator Lisa Murkowski: tone it down. 
On Sunday, Murkowski fired off a blistering critique of the president's proposal to designate large swaths of the Arctic National Wildlife Reserve as wilderness, thereby preventing it from being available for oil drilling, which she characterized as a "stunning attack on our sovereignty," and vowed that Alaska would "fight back with every resource at our disposal." A day later, Murkowski ratcheted up the rhetoric even further at a press conference in Washington, saying that the Obama administration "had effectively declared war on Alaska." 
White House counselor John Podesta told reporters on Monday that the Department of the Interior's plan to ask Congress to extend the protected status to an additional 12.28 million acres did not mean that oil drilling would be banned outright in ANWR. 
"So we hope that we can find cooperation so that that wilderness designation ultimately can go through in the Congress. But we don't think that the reaction that particularly Senator Murkowski had to this announcement was warranted," White House counselor John Podesta told reporters traveling with President Barack Obama.
Falling oil prices have left Alaska's economy in a weakened position, and Alaskans like Murkowski are protective over the state's ability to push ahead with further drilling operations. 
"Our governor had a conversation with the secretary this weekend and reminded her that in his state of the budget address this week, we're a state that is looking at some pretty serious deficiencies in our budget right now, about a $3.5 billion hole. And this is how an administration is going to work with us, take —take all of what is left of ANWR that was in a formerly non-wilderness status area, and put it all off limits now forever, period," Murkowski told reporters on Monday. 
Podesta, meanwhile, painted a markedly different picture. 
"And we will continue to work to try to find balance so that there will be drilling—continued drilling in Alaska, and it's done in conjunction with the Alaska state lands that are being leased for oil and gas exploration, continued exploration in the Arctic on the offshore side," Podesta said. "But again, we feel very strongly that the Coastal Plains should be protected."
Alaska's other Republican senator, Dan Sullivan, joined Murkowski at the news conference and criticized the extra protections that the Department of the Interior will likely put in place in ANWR in the likely event that Congress declines to designate more portions of the region as wilderness. 
"This is [a] classic President Obama tactic," Sullivan said. "Release a plan with no plan of passing the Congress. Meantime, take legally dubious action through executive orders to do what you know Congress won't do." 
Before it's here, it's on the Bloomberg Terminal.
LEARN MORE