What Cruz, Paul, and Rubio Told Koch Donors
The potential White House candidates display their debate skills before a powerful political network.
by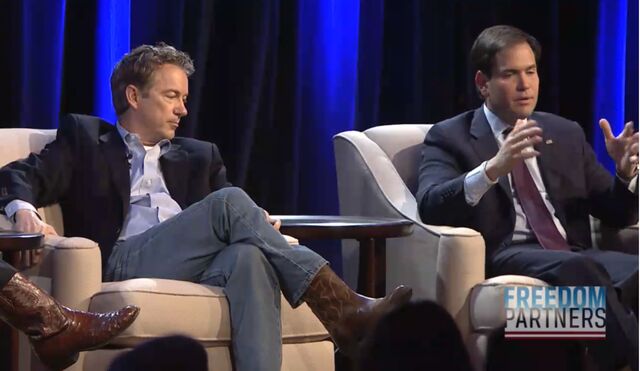 Kentucky Senator Rand Paul stood apart from Florida Senator Marco Rubio and Texas Senator Ted Cruz on foreign policy when the trio of Republican presidential hopefuls shared a stage for the first time during a private donor event for the Koch political network Sunday night in Palm Springs, Calif.
Rubio seemed most in command of the room, garnering repeated applause throughout the 80-minute discussion, and all three senators made a pitch that the American economy is sick because income inequality has grown under President Barack Obama.
None of the senators on stage said they would stomach any tax increases, even when asked about a theoretical deal to trade a $1 hike for $10 worth of reductions in government spending. Another potential 2016 candidate, former Florida Governor Jeb Bush, once said he'd be on board with that plan.
About 450 donors and political operatives attended the weekend summit hosted by Freedom Partners, the business league that raises and distributes hundreds of millions of dollars that flow into Republican politics. ABC News chief White House correspondent Jonathan Karl moderated the senators' panel, and Freedom Partners provided reporters with an Internet broadcast of it.
On display was Paul's nontraditional approach to defense spending and foreign policy. Seated between two colleagues whose fathers fled Cuba, the junior senator from Kentucky alone made the argument that Obama's outreach to the country was worth a try. Paul also called it problematic for Congress to authorize new sanctions against Iran in the middle of international nuclear negotiations—a view neither Cruz nor Rubio shared. Cruz, in fact, said it's worth remembering that the leaders of Iran are "radical religious Islamic nutcases, and that is the technical term."
Donors in attendance seemed to side with Rubio and Cruz on those issues, judging by their applause. Paul reiterated that while he believes national security is the government's most important job, the Pentagon should be audited and reduced in civilian ranks. Rubio said the country ought to spend more on defense research and development, otherwise it will be "eliminating options for future battle chiefs."
On economic policy, each senator argued that, despite fewer unemployment claims and lower gas prices, the American economy is troubled. "It seemed to me we were watching a description of an alternate reality," Cruz said of Obama's State of the Union address.
Rubio said the "anti-business rhetoric" out of Washington is contributing to the U.S.'s diminishing role as a global economic force. "There's been a structural change in the nature of our economy," he said, referring to the rising cost of living and dearth of good-paying jobs to build up the middle class.
Cruz spoke of  "a divided America." Paul allowed that while the economy "is getting a little better," Obama has done little to attack the federal deficit.
The policy panel served as a capstone to the annual winter summit organized by billionaire energy executives Charles and David Koch, two of the Republican Party's most important donors and the fifth and sixth wealthiest people in the world. The brothers helped steer $400 million into the 2012 presidential election, an analysis by the Washington Post and Center for Responsive Politics found. The Kochs and like-minded business leaders wrote checks for a network of politically active nonprofits that do not disclose their donors.  
Republican presidential hopefuls are always a fixture at the Koch event. Earlier in the weekend, Wisconsin Governor Scott Walker gave a presentation. Bush was invited but couldn't attend because of a scheduling conflict, an aide said.
Dig of the night went to Paul. While Cruz and Rubio were diplomatic about 2012 Republican presidential nominee Mitt Romney, who recently told donors he's weighing another run, Paul said he agreed with Ann Romney's earlier pronouncement that her husband's political career is over. Romney simply doesn't have a "visceral connection" with voters, Paul said.
And the kiss-up award went to Cruz, who said he deeply admires the Koch brothers, who have had to endure "grotesque" vilification by Democrats. The men and women at the Koch summit, he said, are "patriots who love this country."
Before it's here, it's on the Bloomberg Terminal.
LEARN MORE