Obama Gets a Warm Welcome, but Indians Pine for Bush
Support for a civilian nuclear deal and a push for more trade kept Bush's image buffed in New Delhi.
by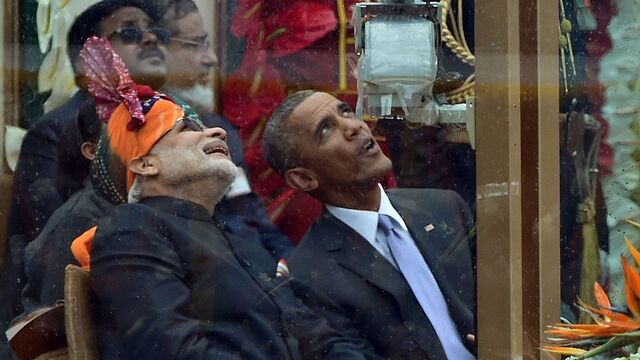 Arriving Monday at the site of India's Republic Day Parade in New Delhi, President Barack Obama was greeted by loud and enthusiastic cheers. Spectators enduring a cool drizzle pointed and waved. Parents held children aloft to see the American president.
It's been this way since Obama set foot on Indian soil. Prime Minister Narendra Modi proclaims him a friend while an Indian television channel marries the president's name and the traditional Hindi greeting in the logo, "Namaste Obama."
While Obama may be the man of the hour here, the U.S. president many Indians still pine for is the guy he replaced in the Oval Office: George W. Bush.
"Indians are pro-Bush," said Gurcharan Das, a prominent writer. "He saw that with China rising, America needed a big country to be an ally. He hyphenated India with China and de-hyphenated it with Pakistan and Indians loved that."
Whatever the view may be of him elsewhere, in India the 43rd president is seen as a straight-talking statesman. In 2008, Modi's predecessor as prime minister, Manmohan Singh, assured Bush: "The Indian people deeply love you."
That affection has endured. The landmark 2005 nuclear cooperation agreement, which reversed more than three decades of U.S. policy by granting India access to American civil technology, is a big part of Bush's lasting appeal.
So is the Bush persona. The things that drive other foreigners nuts—the unshakable certitude, the folksy language—Indians like.
"George W. Bush occupies a special place in the minds of many Indian foreign policy elites," Sadanand Dhume, an India-born specialist on the country at the American Enterprise Institute in Washington, D.C. "In a nutshell, Bush took India seriously."
Bush gets credit here for using political capital to secure for India an exception from restrictions that followed its 1974 nuclear test and left the aspiring power feeling like a pariah. He resisted calls to prevent outsourcing to India, instead pushing for expanded trade, which had remained at low levels following the 1991 start of market-oriented reforms.
"Republicans are seen as taking a big push to get relations to the next level," said Radha Kumar, director general of the Delhi Policy Group, a non-partisan think tank. "The civil nuclear deal allowed India to come in from the cold."
Still, Indian love wasn't blind. When Bush visited the country in 2006, he was greeted by protestors opposed to the invasion of Iraq. U.S. support for India's arch-rival Pakistan, seen as a key counter-terror partner, also rankled.
"He is thought to have seen India strategically, given it high level attention; moved past what in India are called the Arms Controlwallahs," Tanvi Madan, an India expert at the Brookings Institution, wrote in an email.
If Indians ultimately overlooked the Iraq war, it may be because they usually have good reason to find something to like in every U.S. president. Today, those reasons involve American help balancing a resurgent China and reviving an economic engine that had all but stalled.
Perhaps Obama shouldn't let all that love talk go to his head. 
Before it's here, it's on the Bloomberg Terminal.
LEARN MORE