Sheldon Silver Built Power by Speaking Softly While Punishing Foes
Henry Goldman and Freeman Klopott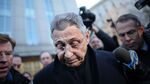 New York Assembly Speaker Sheldon Silver became the state's most powerful lawmaker by practicing politics the old-fashioned way -- rewarding friends, punishing enemies and keeping words to a minimum.
Silver, 70, accused by federal prosecutors of using his power to gain millions of dollars in undeserved legal referral fees, used his political skills to tend to two distinct constituencies: the 150-member assembly's Democratic majority and his ethnically diverse district in lower Manhattan.
For 20 years as speaker, he used a combination of advocacy and obstruction while negotiating with governors and Republican Senate leaders to draft budgets and enact or kill legislation. His absolute control over Assembly rule-making gives him power to decide which bills go to a vote.
"He rose to leadership and kept his power through his intellectual gifts and negotiating ability, and because he used the model of the old hierarchical style of Lower East Side political club from which he came," said Hank Sheinkopf, a Democratic political consultant for 45 years. "You made deals that served your constituents and you kept your mouth shut."
Control Handoff
Silver is temporarily handing over control of the chamber to a group of top members so he can fight charges brought last week by Manhattan U.S. Attorney Preet Bharara, who alleged Silver conspired to use his position to induce real estate developers and asbestos-injury victims to retain law firms in exchange for at least $5.3 million. Silver, who told reporters after his arrest that he will be vindicated in court, will retain his title as budget negotiations and other affairs are temporarily given to the leadership group, his spokesman Michael Whyland said Monday. The lawmaker faces as much as 20 years in prison on each of five counts including conspiracy and fraud. He didn't respond to requests for comment.
Silver first won election to the Assembly in 1976 from Manhattan's Lower East Side, an increasingly Hispanic and Asian neighborhood that still contains traces of its roots as an immigration gateway for European Jews at the turn of the 20th century. He was a key player in the redevelopment of the World Trade Center after the Sept. 11 terrorist attacks, and his district also includes Tribeca, one of the city's most affluent neighborhoods.
Observing Sabbath
An Orthodox Jew, he strictly observes the Sabbath and stops conducting business, even to answer his phone, every Friday evening through sundown Saturday. David Pollock, associate executive director of the Manhattan-based Jewish Community Relations Council of New York, said Silver has been a powerful ally to the entire district.
"He's been an anchor for and sponsor of the dwindling Jewish community and helped create the Tenement Museum, which helped bring tourists to the neighborhood, but, more importantly, he has helped fund schools, housing and services to the entire district," Pollock said.
New York allows lawmakers facing charges to continue their legislative work. Silver's supporters, including New York Mayor Bill de Blasio and Assembly Majority Leader Joe Morelle of Rochester, say the speaker should retain his post and deserves the presumption of innocence. Several of Silver's supporters inside and outside the legislature say the charges will inevitably diminish his power, even if he holds on to his job.
Unions, Tenants
Silver is the most powerful ally that unions and tenants-rights groups had "and the criminal charges will tilt the politics of state government inevitably to the right," said Ken Sherrill, Hunter College political-science professor emeritus. "It will be a huge change because the next speaker will be more under the control of the governor, someone the governor thinks will not cause him any problems, not someone with an independent power base."
Even if Silver resigns, the next leader would still hold the same sway, said Assemblyman Michael Kearns, a West Seneca Democrat who left the majority conference in 2013 in protest of Silver's leadership.
"Through concentrated power, the speaker has been able to scare and intimidate members into silence," Kearns said in an interview. "Until you distribute some of that power, this is what happens. You're going to have corruption."
Leadership Challenge
Former upstate Assemblyman Michael Bragman found out how powerful an adversary Silver could be in 2000, when he challenged the speaker's leadership and failed. Bragman lost his status as majority leader as well as the $34,500 stipend that went with it, two spacious offices and a $1.36 million staff budget, leaving him with two aides of the 24 he once employed, according to news accounts at the time.
The attempted coup in Silver's sixth year as speaker had a profound effect on his leadership style. Bragman had garnered more than 60 votes by arguing that Silver was autocratic and inaccessible.
After punishing Bragman, Silver changed his style. He stopped keeping lawmakers waiting for hours inside his office while he was on the telephone and started recognizing members' birthdays at caucus meetings. Most important, he pushed the consensus of his Democratic delegation, sometimes over his own personal views, according to former and current lawmakers.
Congestion Pricing
When in 2008 former Mayor Michael Bloomberg pushed to create congestion pricing that would reduce traffic and generate almost $500 million by charging motorists $8 to enter Manhattan, Silver killed the idea even though he personally didn't oppose it, saying it "did not have anywhere near a majority of the Democratic conference and will not be on the floor of the Assembly." The former mayor is the founder and majority owner of Bloomberg News parent Bloomberg LP.
It was an example of how Silver began running the assembly majority just like the old-line Democratic club on the Lower East Side that created him, Sheinkopf said. For Silver, who abhors gossip, one the most serious criticisms he might utter about someone is that "he talks too much," Sheinkopf said.
Silver speaks in a monotone, seldom and carefully, said Assemblyman Ron Canestrari of Cohoes, an Albany suburb, whom Silver appointed majority leader in 2007. While he may not be not play the glad-handing happy warrior, Silver knows every detail of legislation, the budget and Assembly management.
"His attention to detail cuts across all lines and enables him to garner respect of the members," Canestrari said. "That mental capacity is not there with everybody."
The decision by Assembly Democrats to keep him as leader, reached in a closed-door meeting in Albany on Jan. 22 even before they read the criminal complaint against him, makes sense in that context, said Richard Brodsky, a former Assemblyman from Westchester.
"Shelly's strength has always been that he has the full confidence of the membership, and that he will negotiate the best deal for the things members care about," Brodsky said.
Before it's here, it's on the Bloomberg Terminal.
LEARN MORE