Branstad Hospitalized After Suffering From Cold
Tim Jones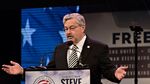 Iowa Governor Terry Branstad is receiving medical attention after being incapacitated by the effects of a cold, a spokesman said.
Branstad, a 68-year-old Republican re-elected in November to his sixth term, was attending the opening of a DuPont Pioneer facility in Johnston. He was taken by ambulance to Methodist Hospital in Des Moines, according to a statement issued by Jimmy Centers, a spokesman for the governor.
"The governor is conscious and alert and was so during the transport to the hospital," Centers said in the e-mailed statement. "Paramedics took the governor's vitals and initial tests indicate that the spell was caused by a seasonal illness."
Branstad is the longest-serving governor in Iowa history.
Before it's here, it's on the Bloomberg Terminal.
LEARN MORE