Christie's New PAC Takes Shape
The move gives the Republican a new political platform to travel and fundraise ahead of 2016.
by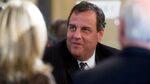 New Jersey Governor Chris Christie has formed a political action committee called Leadership Matters for America as he prepares for a likely presidential campaign, adviser Mike DuHaime said Monday.
The move comes days after Christie attended the last inauguration of a governor he helped elect as chairman of the Republican Governors Association, and gives him a new political platform to travel and fundraise.
It also comes as would-be establishment rivals Jeb Bush and Mitt Romney test the waters for their own presidential bids—a first for Bush, a former Florida governor, and a third for Romney, the 2012 Republican nominee.
As Bloomberg News' Terrence Dopp reports from Trenton, Christie's new organization is using language that nods to turmoil abroad and implicitly attacks President Barack Obama's leadership: 
"America has been a nation that has always controlled events and yet today events control us," the PAC said in a mission statement on its website. "Why? Because leadership matters."

The statement echoes comments Christie made in his State of the State address to New Jersey lawmakers this month. During that speech, he talked about a nation "beset by anxiety."
The Wall Street Journal reported the formation of the group earlier Monday.
Before it's here, it's on the Bloomberg Terminal.
LEARN MORE