Scott Walker Takes Center Stage
Wisconsin's governor needed to score at the Iowa Freedom Summit, and he just might have pulled it off.
by , , and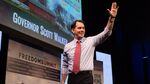 DES MOINES, Iowa—One by one, close to a dozen Republicans openly exploring 2016 presidential bids strode onto the stage of a historic theater on Saturday, all with questions facing their viability. Scott Walker may have taken the biggest step forward.
The Wisconsin governor has always appeared to be a potentially strong candidate, at least on paper. One of the unknowns has been whether he could light up a room on the presidential trail. He started to put to rest that question with a confident, warmly received speech at a gathering of social conservatives in Iowa, where the presidential nominating process will begin in just more than a year.
The event marked the unofficial start of the 2016 Republican presidential nomination campaign, one that's shaping up to be one of the most wide-open in the last half century. The challenge for potential candidates is to make the necessary appeal to the party's conservatives while not hurting their chances in the general election.
Walker's performance at the Iowa Freedom Summit stood out on a day that featured vastly different stylistic deliveries and messages before an audience of more than 1,200 activists, many of whom will participate in the 2016 Iowa caucuses. New Jersey Governor Chris Christie, a bit of an odd fit for the crowd, held his own as he sold his credentials as an abortion opponent.
"Both Walker and Christie had more to lose than win today with a poor showing, and I think both helped their causes," said Matt Strawn, a former chairman of the Republican Party of Iowa. "Walker was relatable, humorous, substantive, and more fiery than the crowd expected."
Strawn emphasized that Christie came to the event while two other more moderate potential candidates—former Florida Governor Jeb Bush and 2012 nominee Mitt Romney—skipped it. So did Senators Rand Paul of Kentucky and Marco Rubio of Florida and Louisiana Governor Bobby Jindal. On Sunday evening, Paul, Rubio, and Cruz will appear together in Palm Springs, Calif., at a donor summit for the Koch political network.
"Governor Christie's presence alone demonstrates a commitment to Iowa not yet made by other potential candidates who may be vying for a similar segment of the Iowa caucus electorate," Strawn said. "His remarks sent a clear signal that he sees a path in Iowa, and letting Iowans get to know him personally is a key to his strategy."
Besides Walker, Senator Ted Cruz of Texas and former Arkansas Governor Mike Huckabee were among the candidates to win the warmest receptions at the summit. Former Texas Governor Rick Perry, seeking political redemption after a botched 2012 presidential bid, appeared animated and ready to compete.
The biggest surprise was Walker, who related his story of facing off with unions in Wisconsin, while winning three elections in four years. He even worked in a reference to his own Iowa childhood. Joan Van Tersch, 63, an elementary school teacher from Council Bluffs who attended the daylong gathering, said she was impressed. "He's focused on what we need to be focused on—that's empowering us, not the government," she said. "He speaks very well."
Lenny Scaletta, 69, a Tea Party activist from Council Bluffs, said he would think about supporting Walker in the caucuses. "I'd want to talk to him, but from what he's said and his passion and his work history I'd definitely support him," Scaletta said. "If it was between him, Mitt Romney, and Jeb Bush, by all means I'd be behind Scott Walker 100 percent."
Cruz, known for feisty oratory, told the Iowans that they need to use their status as the first in the nation to vote in presidential nomination races to force Republican candidates to prove they're conservatives, not just accept their words that they are. "Talk is cheap," Cruz said, pacing the stage. "The word tells us you will know them by their fruit."
Chris Rittgers, 49, a homemaker who attended the event, said she was most impressed with Perry, Cruz, and retired neurosurgeon Ben Carson. "They connected with me and they seemed to be talking from their heart," she said. "They all found faith and God is important to them."
Huckabee, a Baptist minister who won the Iowa caucuses in 2008, noted how he announced earlier this month an end to his show on Fox News because of a potential second White House bid. "I'll leave it to your imagination, but it wasn't just so I could go deer hunting every Saturday," he said.
"We don't need to spend the next two years beating each other up in the conservative tent," he added. "We need to tell America what's right with this country."
The 2012 caucus winner, former Pennsylvania Senator Rick Santorum, won mostly tepid applause during his appearance. "We have been and we must be the party of growth and opportunity," he said. "We need to be pro-growth, but we also need to be pro-worker."
Christie did his best to burnish his social-conservative credentials, arguing his success in a blue state shows the party's opposition to abortion isn't a detriment. "Political consultants told me that there was no way I could be elected governor of New Jersey as a pro-life Republican because it had never been done before," he said. "They were wrong."
Perry, who made numerous trips to Iowa in 2014, was interrupted by protesters opposed to his immigration views. "This is why we live in America today—to be able to stand up and tell our government what we want it to do,'' Perry said loudly in response as the protesters shouted.
He left little uncertainty about his brewing second presidential bid. "America is looking for a new path forward, and starting today, right here in Iowa, we'll give it to them," he said.
Few of the speakers mentioned former Secretary of State Hillary Clinton, considered the likely frontrunner for the Democratic nomination. Of those, former Hewlett-Packard CEO Carly Fiorina was most critical. "Like Hillary Clinton, I too have traveled hundreds of thousands of miles around the world, but unlike her I've actually accomplished something," she said. "You see, Mrs. Clinton—flying is not an accomplishment, it's an activity. I have met Vladimir Putin and I know that it takes far more than a gimmicky red reset button to halt his ambition."
Former Alaska Governor Sarah Palin cast herself as the judge of who's a real conservative, but made no hints that she would run herself.  "We can afford no retreads or nothing will change," she said. "We're not in a mood to give politicians a pass just because they happen to have a certain party initial next to their name."
Carson called for smaller government, saying Washington too often tells families "how to take care of your children, what you should feel them and how you should discipline them," while businessman Donald Trump, who said he's seriously considering a 2016 bid, dismissed the prospects of Romney and Bush. "It can't be Mitt," Trump told the audience. "He choked."
Walker sold himself as a battle-tested warrior in the fight for conservative values, citing death threats to himself and his family and outlining his experience taking on organized labor. 
The governor thrust himself into national prominence four years ago, when he used Republican legislative majorities to restrict collective bargaining for most public employees in his state. After weeks of union-organized protests led to recall campaigns, he became the first governor in U.S. history to survive an ouster vote in 2012. He won a second four-year term in November.
Wearing a tie, but with no suit coat and sleeves rolled up, Walker thanked Iowans for the financial and spiritual support they offered during his recall election fight. "In those darkest of times, we needed it," said Walker, who noted that he had spent part of his childhood in Plainfield, Iowa.
With a 2014 re-election campaign of his own back in Wisconsin, Walker has spent far less time in Iowa than most of his fellow Republicans at the summit. He promised to make up that gap in the coming months. "I'm going to come back many more times in the future," he pledged, saying he could bring leadership that is "new and fresh and bold and aggressive."
Democrats hovered on the sidelines throughout the day, seeking to tie the party's prospective presidential candidates to Representative Steve King of Iowa. King, the state's most conservative member of Congress, hosted the event with the conservative advocacy group Citizens United.
Democratic National Committee Chairwoman Debbie Wasserman Schultz, meeting with reporters before the event, sought to remind voters of King's controversial statements on immigration, including his calling an undocumented immigrant who sat with first lady Michelle Obama during Tuesday's State of the Union address "a deportable." King is one of his party's strongest opponents of immigration reform.
"This opening act is a ring-kissing summit, an extremist ring-kissing summit, masquerading as a political forum," Wasserman Schultz said in a community center across from the event. "That really sends a signal to all voters and all Americans."
Before it's here, it's on the Bloomberg Terminal.
LEARN MORE