Rick Santorum's Immigration History Lesson
1920s immigration laws "did what was best for the American worker," potential White House candidate Rick Santorum says.
by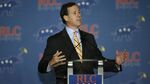 Former Senator Rick Santorum, a potential Republican presidential candidate, said in an interview airing Sunday that 1920s immigration laws "did what was best for the American worker."
"I'm not saying shut [unskilled immigration] down, but I will tell you, the last time we had this kind of surge in immigration was the Great Wave between 1880 and 1920, and after that Great Wave, there were two bills that were passed, 1921 and 1924, and they both passed almost unanimously in the House and Senate," Santorum said on CNN's "State of the Union." "Why? Because they put politics aside. They did what was best for the American worker."
The two chief immigration laws enacted in those years were the Emergency Quota Act of 1921 and the Immigration Act of 1924. They came after the Literacy Act of 1917 proved insufficiently restrictive in the eyes of lawmakers, as it turned out many immigrants did know how to read.
The Emergency Quota Act drastically limited the number of Eastern and Southern Europeans allowed into the country. (Asians had already been barred by a provision in the 1917 law.) The quota measure said that each year, the number of immigrants from a specific background could not exceed 3 percent of that group's U.S. population in 1910. The 1924 law tightened restrictions further, setting the proportion at 2 percent and the reference year at 1890. The laws largely affected Jews and Italians, both of whom had much smaller populations in America in 1890.
As it turns out, the legality of Santorum's own Italian ancestors' immigration to the U.S. during this period has come into question. The Republican has said his relatives came to the country "the right way."
The exclusionary intent and even xenophobia of the laws has been long-acknowledged. "In all of its parts, the most basic purpose of the 1924 Immigration Act was to preserve the ideal of American homogeneity," according to the State Department Office of the Historian. Or as bill sponsor Senator David Reed said at the time, the point was "keeping American stock up to the highest standard—that is, the people who were born here." 
Before it's here, it's on the Bloomberg Terminal.
LEARN MORE