Obama Moves to Put Much of Refuge Off Limits to Drilling
David Lerman and Jim Snyder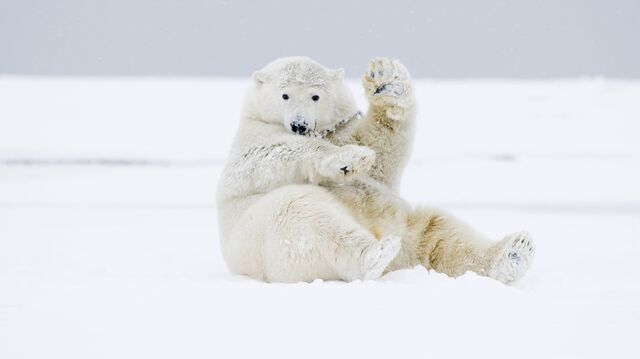 President Barack Obama will take steps to restrict 12 million acres of the Arctic National Wildlife Refuge from oil and gas exploration, a move denounced by Alaskan lawmakers who have fought for years to open the area up to drillers.
The administration on Sunday announced a plan to add protections to the refuge and also called on Congress to designate "core areas" of the 19.8 million-acre refuge as wilderness, including its Coastal Plain, according to a statement from the Interior Department. The designation is the highest level of protection from development that's available to public lands, according to the department.
"Designating vast areas in the Arctic National Wildlife Refuge as wilderness reflects the significance this landscape holds for America and its wildlife," Interior Secretary Sally Jewell said in the statement.
The administration and the U.S. Senate's new Republican majority are already in conflict over energy issues, from climate change to construction of the Keystone pipeline from Canada. The arctic region represents one of the nation's largest known petroleum reserves, though harsh conditions and environmental concerns have hampered exploration and development.
Spokesmen for ConocoPhillips, BP Plc, Royal Dutch Shell Plc and Exxon Mobil Corp., all of which have significant operations in Alaska, didn't immediately return calls and e-mails seeking comment.
Coastal Plain
Approval of a wilderness designation from the Republican-controlled Congress is "highly unlikely" with Alaska Republican Lisa Murkowski as chairman of the Senate's key energy committee, said Cindy Shogan, executive director of the Alaska Wilderness League, an environmental group.
Shogan said the proposal is nonetheless significant because it reverses a White House position made to Congress by President Ronald Reagan in 1987 recommending oil drilling in the refuge.
More than 7 million acres of the wildlife refuge are now protected as wilderness. Obama's proposal would expand that territory and include for the first time the Coastal Plain.
The Interior Department said the refuge is home to most diverse wildlife in the Arctic, including caribou, polar bears, wolves and muskoxen. It was established in 1960 by President Dwight Eisenhower and expanded in 1980 under President Jimmy Carter, according to the Alaska Wilderness League, which applauded Obama's move.
"This is a big deal," Shogan said. "In the history of the Arctic Refuge, this is the closest that we have come to advancing Wilderness for the Coastal Plain."
Murkowski Opposition
The area has been the subject of a political fight over energy development and environmental protection for decades. Alaskan lawmakers said Obama's plan threatens their state's sovereignty and economy.
"It's clear this administration does not care about us, and sees us as nothing but a territory," Murkowski said in a release. "I cannot understand why this administration is willing to negotiate with Iran, but not Alaska. But we will not be run over like this. We will fight back with every resource at our disposal."
Before it's here, it's on the Bloomberg Terminal.
LEARN MORE