Dropkick Murphys to Scott Walker: 'We Literally Hate You'
The Celtic band was not pleased that the Wisconsin governor used their song during his entrance at the Iowa Freedom Summit.
by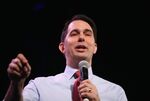 Wisconsin Governor Scott Walker may have scored a standing ovation at the Iowa Freedom Summit on Saturday, but not everyone was happy with his appearance.
As Walker entered the auditorium in Des Moines and waved to the crowd, the Dropkick Murphys' hit "I'm Shipping Up to Boston," which was featured in the film The Departed, played in the background. (You can hear it clearly during the first 15 seconds of this video from C-SPAN.) 
The musical choice didn't slip by the band unnoticed, and on Saturday night, Ken Casey, the lead singer for the Massachusetts-based band tweeted about the song's placement. 
Representatives for Walker and the Iowa Freedom Summit did not respond to a request for comment on the issue, but this is not the first time that the band has clashed with the Republican Party in Wisconsin. In 2012, the Dropkick Murphys said on their Facebook page that they "stand beside our Union and Labor brothers and sisters and their families in Wisconsin and all over the U.S." regarding Walker's fight to strip public sector unions of collective bargaining rights, Mediaite reported. The group added that fellow Wisconsin Republican Jeff Fitzgerald using one of their songs for a campaign "is like a white supremacist coming out to gangsta rap!"
For now, the band is only complaining, not calling its lawyer, Casey said.
"This isn't a legal issue to us—we're not looking to sue someone," he said in a statement e-mailed by the group's manager on Monday. "Yes, our words were a little harsh, but it was borne out of frustration with past history of Wisconsin Republicans, such as Jeff Fitzgerald, using our music."
It has become a time-honored campaign tradition for left-leaning musicians to ask that Republicans cease and desist the use of their songs. According to the New York Times, Jackson Browne successfully sued Senator John McCain in 2008 for using his "Running on Empty" to attack Senator Barack Obama. Ann and Nancy Wilson of Heart complained that Governor Sarah Palin was using their song "Barracuda," and Tom Petty got Representative Michele Bachmann to stop using "American Girl." The rock group Survivor complained to Governor Mitt Romney and former Speaker Newt Gingrich after both men used "Eye of the Tiger" as their walk-up music, and John Mellencamp also voiced his displeasure with Walker after the governor played his hit "Small Town" at campaign rallies.
CORRECTION: An earlier version of this post misspelled Newt Gingrich's first name.
Before it's here, it's on the Bloomberg Terminal.
LEARN MORE