Carly Fiorina Gets Into the Picture
A savvy performance sets the former CEO apart from the pack.
by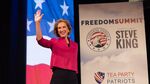 DES MOINES, Iowa—By general agreement of the reporters who swarmed the Iowa Freedom Summit, the potential presidential candidate who did himself the most good was Wisconsin Governor Scott Walker. The most applause lines went to Texas Senator Ted Cruz. "Applause after every line," marveled focus group maestro Frank Luntz, with just a dash of exaggeration. The most drama belonged to Texas Governor Rick Perry, though it wasn't his doing; he just shined when confronted by young undocumented immigrants, who shouted at him for nearly a minute before being pulled from the room. 
"I think that worked to the benefit of Rick Perry," said Representative Steve King, the host of the summit.
But the contender who perfected the buzz-to-applause ratio was Carly Fiorina, the former CEO of Hewlett-Packard.
First, buzz. She did not have much among the Iowans (and others) filling the seats of the Hoyt Sherman Place. She just adroitly cultivated it with reporters, via the uncomplicated strategy of "sending them her speech." Nearly an hour before she took the stage, Fiorina's unofficial (insofar as there's no campaign) communications director, Sarah Flores, sent reporters the prepared text, and watched reporters scour it for ledes. I was talking to Flores when she saw that Hugh Hewitt, an influential California radio host and writer, had already discovered that Fiorina would criticize the House GOP for failing to pass a ban on abortions after 20 weeks of pregnancy.
"He's fast!" said Flores.
As she said that, Fiornia was doing a radio interview and mocking Hillary Clinton's experience as secretary of state. "She talks about the miles she flew," Fiorina said. "That's an activity, not an accomplishment." Anyone with a copy of the speech could zoom down halfway and find this:
Like Hillary Clinton, I too have travelled hundreds of thousands of miles around the globe. But unlike her, I have actually accomplished something. Mrs. Clinton, flying is an activity not an accomplishment.
On the stage, that line killed. Years of high-level speeches, countless hours of financial cable TV talk, had sharpened Fiorina's talking point skills to the level of a high-performing candidate. So had her busy work for the National Republican Senatorial Committee, which sent her around to purple states stumping for candidates who were being attacked as anti-woman. Surprisingly, Fiorina was the only speaker among a dozen possible presidential candidates who mentioned the 2012 terrorist attack in Benghazi. ("Unlike Hillary Clinton, I know what difference it makes that our ambassador to Libya and three other brave Americans were killed in a deliberate terrorist attack on the anniversary of 9/11 and that the response of our nation must be more forceful that the arrest of a single individual a year later.")
Fiorina ended a day of interviews with a press conference, ending two hours before a plane ride that would start her 10-day trip to India. It happened to coincide with Perry's speech, and despite the work Fiorina had done to make it onto radio and TV shows and into stories, the press chairs were largely empty. A few reporters, led by NBC's Kasie Hunt, drilled in on Fiorina's opinion of the auto bailout and bank reception. Would Fiorina, for example, repeal Dodd-Frank regulations?
"What happened with Dodd-Frank?" she asked. "The agencies that started the housing bubble in the first place benefited by the peeling away of all these regulations in which only the big can survive."
The auto bailout question, too, was a test of her ability to convert business goals into populism. She passed it. "I would start with a change in mindset," she said. "When the bailout of General Motors saved thousands of union jobs, many more jobs across America were destroyed when small businesses went belly-up."
With that, Fiorina waved off further Dodd-Frank questions—"I have to be in India, tomorrow"—and headed out.
Before it's here, it's on the Bloomberg Terminal.
LEARN MORE