The Huckabee-Santorum Double Feature
Two caucus victors lay out their views on gay marriage and deflated footballs.
by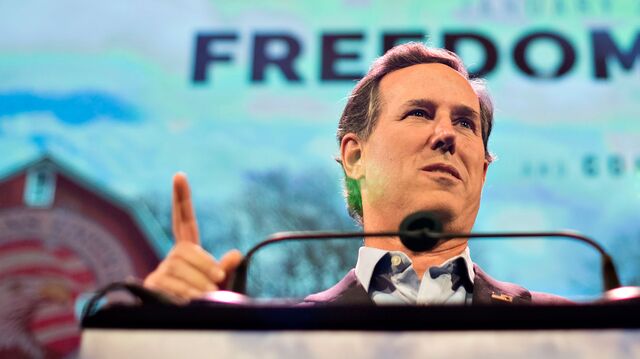 DES MOINES, Iowa—Mike Huckabee won the 2008 Iowa caucuses. Rick Santorum won the 2012 Iowa caucuses. Both of them are in Des Moines on Saturday for the Iowa Freedom Summit; both are sticking around the Hawkeye State for a few more days of events.
There is no precedent for this. Two caucus victors have never faced off before; Huckabee and Santorum even shared some media handlers in Alice Stewart and Hogan Gidley. (Stewart was staffing Huckabee as he flitted around the summit for interviews.) "They're like two prizefighters," joked Representative Steve King this week, before the summit kicked off.
On Saturday afternoon, the two potential opponents spoke back to back at short press conferences—Santorum after his own speech, Huckabee long before his. Early on, Santorum got a question about gay marriage, and whether a Supreme Court ruling would elevate the issue in Iowa.
"I don't know how big an issue it's going to be," he said. "You just asked me to play political commentator. What I think is important is marriage and the family. And I think the most important thing we can do as a party is to restore the importance of marriage, encouraging marriage from an economic point of view as well as a societal point of view. "
The reporter followed up: How would the court actually change the debate?
"It depends on what they decide," said Santorum.
As he gritted his teeth, another reporter chimed in and asked him how he could criticize Iran as a theocracy. "Isn't this similar to your view on same-sex marriage, to allow theology to dictate public policy?"
Santorum didn't blink, launching into a quick rundown of Iranian eschatology, and eventually getting back to the subject of 2016. Then, another reporter asked him what he'd "say to the thousands of gay families" already enjoying marriage in Iowa.
"I wonder if everybody else gets the same number of questions on this subject as I do," said Santorum, not really trying to conceal his irritation.
He wrapped not long after, and laughed off an NBC News question about Tom Brady's football. "Fox News already asked me!" he said. As Santorum walked down some back stairs out of the press room, he ran into Huckabee coming up. Huckabee asked about Santorum's daughter Bella, who was born with a genetic condition and will be the subject of a book by Santorum and his wife. They talked for a bit, then Huckabee found the podium and started answering questions.
It took no time at all for a reporter to ask if Huckabee could clarify his own gay marriage views.
"Three branches that are all equal means just that," said Huckabee. "There's no such thing in the Constitution as judicial supremacy, where the courts make a ruling and it becomes, quote, 'the law of the land' by the mere ruling itself. A great example of this is 1857, the Dred Scott decision, in which the Supreme Court in one of its most horrendous decisions...said that people who were black weren't fully human."
This was exactly the rhetoric that got Huckabee a flurry of negative stories, but he was really rolling. "Now, Abraham Lincoln said he wasn't going to abide by that," Huckabee continued. "Nobody argues that Abraham Lincoln should have abided by the Dred Scott decision. I think we realized that he had the moral courage to decide that something was morally wrong. That goes in the same vein as if you read the letter from a Birmingham jail, that Martin Luther King wrote, based on St. Augustine's teachings, that there are laws that sometimes man passes that are not just laws."
There was a follow-up: If Huckabee was still governor of Arkansas, how would he have responded to a judge legalizing gay marriage and the state issuing marriage licenses?
"He invalidated a constitutional amendment that had been passed by 74 percent of the voters back when I was governor," said Huckabee. "If I had still been governor I think I would have done something differently. My question is: By whose authority did that happen?"
"Let me just say this about the whole issue of deflated footballs," said Huckabee. "Even as I stand here and deflate in this heat. I saw interviews with Dan Marino and Joe Theismann, who know a lot more about football than I do, who know more than most people who are droning on about it, and most said that it didn't make any difference."
Before it's here, it's on the Bloomberg Terminal.
LEARN MORE