Ted Cruz: Make Candidates Prove They're Conservative
At least eight Republicans contemplating White House bids and a dozen more popular conservatives make their pitch to Iowa activists.
by and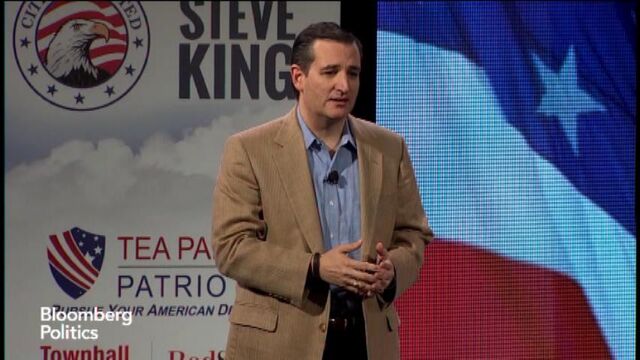 DES MOINES, Iowa—If Rick Santorum calmed the audience Saturday afternoon at the Iowa Freedom Summit, Ted Cruz woke them up again.
Known for his feisty oratory, the senator from Texas won enthusiastic applause from more than 1,200 social conservatives packed into a historic Des Moines theater to hear from at least eight Republicans contemplating bids for the White House, as well as more than a dozen others popular with the party's base, such as former Alaska Governor Sarah Palin. It's the largest gathering of its kind so far in the 2016 election cycle.
Cruz told Iowans that they need to use their status as the first in the nation to vote on presidential nomination races to force Republican candidates to prove they're conservatives, not just accept their words that they are. The Iowa caucuses are just more than a year away.
"Talk is cheap," Cruz said, crisscrossing the stage. "The word tells us you will know them by their fruit."
Santorum, the former Pennsylvania senator who won the 2012 Iowa caucuses, won mostly tepid applause during his appearance. If he runs again, Santorum said, he wants to put forward a more forward-looking agenda. "Americans feel the division and we're sick of it," he said, adding that he wants Republicans to do more than just bash Democrats.
"We have been and we must be the party of growth and opportunity," he said. "We need to be pro-growth, but we also need to be pro-worker."
In his highest-profile visit to Iowa, Wisconsin Governor Scott Walker won a warm reception as he sold himself as a battle-tested warrior in the fight for conservative values, citing death threats to himself and his family and outlining his experience taking on organized labor.
Walker thrust himself into national prominence four years ago, when he used Republican legislative majorities to restrict collective bargaining for most public employees in his state. After weeks of union-organized protests led to recall campaigns, he became the first governor in U.S. history to survive an ouster vote in 2012. He won a second four-year term in November.
Wearing a tie, but with no suit coat and sleeves rolled up, Walker thanked Iowans for the financial and spiritual support they offered during his recall election fight. "In those darkest of times, we needed it," said Walker, who also noted that he had spent part of his childhood in Plainfield, Iowa.
During the union battle, Walker told the audience that he and his family received repeated threats, including one that said the person wanted to "gut my wife like a deer." The experience, he said, convinced him that politicians can survive, even if they take controversial stands.
"If you are not afraid to go big and bold, you can get results," he said. "The voters will actually stand up with you."
With a 2014 re-election campaign of his own back in Wisconsin, Walker has spent far less time in Iowa than most of his fellow Republicans at the summit. He promised to make up that gap in the coming months. "I'm going to come back many more times in the future," he pledged, saying he could bring leadership that is "new and fresh and bold and aggressive."

Most of those speaking to the group are social conservatives, with New Jersey Governor Chris Christie being a notable exception. Two more moderate potential candidates–former Florida Governor Jeb Bush and 2012 nominee Mitt Romney–skipped the event, as did Senators Rand Paul of Kentucky and Marco Rubio of Florida and Louisiana Governor Bobby Jindal. On Sunday, Paul, Rubio, and Cruz will appear together at a donor summit for the Koch political network in Palm Springs, Calif.
In his remarks, retired neurosurgeon Ben Carson mostly stuck to a speech similar to one he delivered in November to another large group of Iowa social conservatives. He called for smaller government, saying Washington too often tells families "how to take care of your children, what you should feel them and how you should discipline them."
On immigration, Carson said the existing laws should be enforced and if changes are made they should be made by Congress and not the president or courts.
"You have to reverse the polarity of the magnet," he said of immigrants. "We have to get rid of all the things that are drawing them in here, including their employment."
Businessman Donald Trump, who said he's seriously considering a 2016 White House bid, dismissed the prospects of Romney and Bush. "It can't be Mitt," Trump told the audience. "He choked."
Newly elected Senator Joni Ernst of Iowa, a rising GOP star, said the turnout for the summit shows Republicans "have the momentum and we need to use it as we're going forward to 2016."
Democrats hovered on the sidelines, seeking to tie the party's prospective presidential candidates to Representative Steve King of Iowa. King, the state's most conservative member of Congress, hosted the event with the conservative advocacy group Citizens United.
Democratic National Committee Chairwoman Debbie Wasserman Schultz, meeting with reporters before the event, sought to remind voters of King's controversial statements on immigration, including his calling an undocumented immigrant who sat with first lady Michelle Obama during Tuesday's State of the Union address "a deportable." King is one of his party's strongest opponents of immigration reform.
"This opening act is a ring-kissing summit, an extremist ring-kissing summit, masquerading as a political forum," Wasserman Schultz said in a community center across from the event. "That really sends a signal to all voters and all Americans."
The summit will also feature appearances from former Arkansas Governor Mike Huckabee, businesswoman Carly Fiorina and former Texas Governor Rick Perry.
David Weigel contributed to this report.
Before it's here, it's on the Bloomberg Terminal.
LEARN MORE