Newt Gingrich: Fight Against Islamists is 2016 Litmus Test
His speech doesn't include any hints about his own presidential ambitions.
by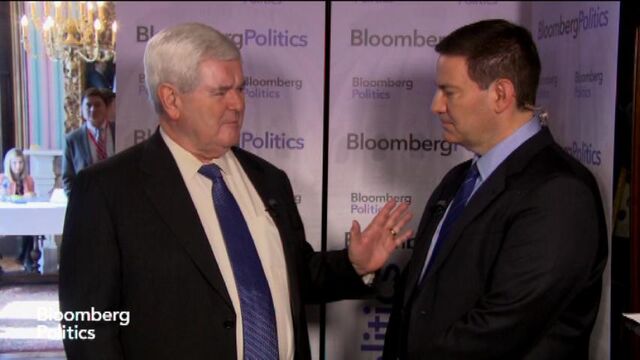 DES MOINES, Iowa—Former House Speaker Newt Gingrich told Republicans in Iowa they should view one issue as key to the 2016 campaign: the fight against radical Islam.
 "I have no problem with Muslims who are prepared to live in diversity. But if you believe you are a Muslim who's going to impose Sharia by cutting off my head, I have a desire to kill you before you cut off my head,'' Gingrich said to a standing ovation at the Iowa Freedom Summit.
Gingrich, who was first elected to the House of Representatives in 1978, was an architect of the 1994 Republican Revolution, propelling the party to control of the House and making him the first Republican House speaker in 40 years. In 1998, he led the charge to impeach President Bill Clinton over the Monica Lewinsky scandal, and his party lost seats in the following election amid voter backlash. He resigned from Congress in 1999.
Gingrich criticized Democrats and Republicans for failing to clearly state the global war against terrorism amounts to a struggle against radical Islam. Keeping citizens safe is the central obligation of any government, he said, and he charged that President Barack Obama hasn't been clear enough in articulating the true enemy in the fight.
"In my mind, intellectually, I've written off this administration. It's hopeless, and frankly unless there's some great conversion for Hillary Clinton I'd write her off too," he said. "She is part of this world view, she is with Obama. She can't hide from it—it is a fact.''
Missing from Gingrich's speech was any hint of his own ambitions. In 2012, he ran in the Republican primary as a conservative fighting for a balanced federal budget and religious freedoms, going after eventual nominee Mitt Romney for his time with private equity firm Bain Capital Investors LLC. During the race Gingrich made headlines almost as often for staff changes and finances as he did for his policy ideas.
He dropped out after winning just two primary contests: his home state of Georgia and South Carolina. 
Before it's here, it's on the Bloomberg Terminal.
LEARN MORE