Chuck Grassley Tears into Obama, Holder
"The embodiment of Iowa" takes a star turn at the Freedom Summit.
by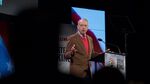 From the Des Moines Register: 
Iowa Republican Sen. Chuck Grassley delivered a roaring address at Saturday's Freedom Summit, ripping into the nation's president and attorney general while touching on immigration, federal spending and the authority of Congress.

In the process, Iowa's senator of more than 30 years received two standing ovations and a series of applause.

After Republican Party of Iowa Chairman Jeff Kaufmann introduced him as "the embodiment of Iowa," Grassley wasted little time before turning to his new role as Senate Judiciary Committee chair and the upcoming confirmation hearing for attorney general nominee Loretta Lynch.
Read more here.
Before it's here, it's on the Bloomberg Terminal.
LEARN MORE