It Doesn't Matter What the Media Thinks of Obama's YouTube Interviews
YouTubers think the media, not President Obama, should act with more dignity.
by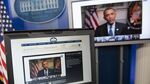 Like the "Between Two Ferns" interview last year, President Obama's YouTube discussion has set off a debate about whether the President of the United States should be interviewed by social media stars. 
"Now look, Megyn, I'm not some old media curmudgeon saying that Obama shouldn't go on Ellen or The View or Colbert," Fox News media critic Howard Kurtz told Megyn Kelly on her show Thursday night. "But it just seemed beneath the dignity of the office to be hanging out with some of these YouTubers." Kurtz and Kelly focused on 52-year-old black comedian GloZell Green, and the segment heavily featured Glozell's two and a half year old cereal bath stunt. 
But is it really beneath the dignity of the president to engage with millennials—the country's largest constituency—in the way that interests them? Younger people vote at embarrassing low rates, and to the extent that they do follow the news, they're more likely to get it through social media than older Americans. Meanwhile, the three stars who interviewed Obama—Green; Hank Green, 35; and Bethany Mota, 19—have 13.8 million subscribers between them, and many of those followers think it's beneath the dignity of the media to scoff at the session.
"I don't expect non-YouTubers to understand why we do what we do," YouTube user Tyler Hirsch wrote on his Tumblr. "What I do expect is our media to adapt to the world it's in and respect our generation when we show awesome signs of ownership in our nation and maturity, as these three wonderful people did today." Hirsch's sentiments are shared by other users here, here, here, and here.
The commenters were particularly upset that the Fox News segment glossed over the actual questions the YouTubers asked. 
Hank Green asked Obama if he was right to think that none of the president's State of the Union ideas were "politically feasible," and about the president's drone strategy. Glozell Green's most viral moment was accidentally referring to the First Lady as Obama's "first wife," but she also touched on racial profiling and asked how Obama justifies dealing with Cuba and the Castros who, in her words, put "the d-ck in dictatorship."
Mota asked about education and cyber bullying, but also touched on the whole point of the interview session. "I'm gonna be honest with you. Before I came here to do this interview for YouTube, I never really follow politics that much," she said, adding that many of her followers don't either. "Why should the younger generation be interested in politics, and why should it matter to them?"
Obama replied that young people are the ones affected most by issues like climate change and student loan debt, and politics isn't as complicated as it seems. "I think that young people usually have good instincts," he said, "but sometimes they just get turned off by all the noise and yelling on TV, and that's not how politics has to be."
Before it's here, it's on the Bloomberg Terminal.
LEARN MORE