If It's 'High-Standard' Trade, Will Democrats Fall in Line?
Key elements of the Democratic base are leery of trade deals that might turn out badly for American workers.
by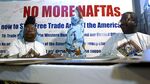 As President Barack Obama tries to sell skeptical Democrats on granting him fast-track authority to negotiate international trade deals, the White House is starting to add qualifiers such as "high quality" and "high standard" to its talking points on trade, an issue that could have implications for the 2016 presidential contest.

Already in the early weeks of the new Congress, in which Republican control of the Senate may give Obama new opportunities to cut bipartisan deals supported by business, trade is looming as the sort of issue that could drive a wedge among Democrats and fuel progressives' push to make Hillary Clinton act and talk more like Elizabeth Warren.

During a Bloomberg Government breakfast on Friday, National Economic Council Jeff Zients said  that "high-standard trade deals" and tax reform are ways Obama wants to "insure global competitiveness" as well as ways to "help middle class workers." Jason Furman, chairman of the Council of Economic Advisers, added that there is a "potential for high-quality  trade deals that are good for American workers. And that's the standard the president's going to hold any trade deal to."
Certainly, aides wouldn't pitch lawmakers on the notion of giving the president more berth to negotiate low-quality trade deals. The new rhetorical refrain is a recognition of the regrets and frustrations carried over from past trade deals by core Democratic constituencies such as unions and environmental advocates, as well as their vocal reluctance to help Obama and Republicans seal deals they fear might be bad for U.S. workers or the environment.
"The president also was clear in the State of the Union that not all trade deals have lived up to their hype or their past promises," Furman said. "And, you know, I think that our job right now is to take input from the Hill, make sure that people understand what is being negotiated and to insure that we hit that standard of a high-quality trade deal that's good for middle class workers."

Furman also made the case that "if you don't do these trade deals, you're going to have lower labor standards in Vietnam. You're going to have lower environmental standards in Malaysia. You're going to have, you know, in an economic sense less access to selling agricultural products into Japan. So from a progressive perspective a trade agreement itself is, you know, about negotiating better things in all of those dimensions. Going beyond the types of labor standards we had." 
Zients concurred. "We need to be working with folks on the Hill so that they understand how this trade deal or set of trade deals will be very high standards on labor and environment  and other areas that haven't existed in past trade deals."  
Before it's here, it's on the Bloomberg Terminal.
LEARN MORE