Who is Renee Ellmers?
The North Carolina representative has an interesting story to tell.
by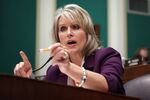 As the 42nd anniversary of Roe v. Wade dawned Thursday, many Americans could be found Googling the name Renee Ellmers. That's because the 50-year-old North Carolina representative and chair of the Republican Women's Policy Committee had thrown up an unexpected road block to a bill banning abortion after the 20th week of pregnancy.
While Ellmers supports restricting abortion after the mid-way point of gestation, the language in the bill that made exceptions to the ban in the case of rape only if a woman reported the crime to law enforcement went too far, she said. With other Republican women joining her, the House GOP was forced to abruptly pull the bill Wednesday night, infuriating abortion foes. 
At the conservative website RedState, for instance, Ellmers received the superlative insult in a piece titled, "Renee Ellmers is worse than a Democrat. "
"It's unfortunate the way it played out," Ellmers told reporters Thursday morning. "I think we're all just going through some growing pains."
A look at Ellmers' relatively short political career shows that this may not be the last time that she rankles members of her party, or the opposing one, for that matter. 
Nursing experience
Adding heft to Ellmers' standing in the abortion debate is the fact that she graduated with a degree in nursing before going on to work for 21 years as a registered nurse at Beaumont Health Center in Detroit. Ellmers married a doctor, and credits her transition into politics to President Barack Obama's health care legislation. According to her website:
"She never saw herself as a politician, nor dreamed that she would be elected to federal office, but felt the call to action as she saw her industry and life's work coming under attack. In 2009, she and her husband attended a town hall meeting on President Obama's health care plan and came away distraught over the government's impending takeover of patients' rights and access to health care."  
House election
Ellmers' big political break came in 2010, when Democratic Representative Bob Etheridge, who was up for re-election, was caught on video getting into an altercation with two young men who approached the congressman and asked him if he supported the "Obama agenda." In the ensuing bad publicity, Ellmers found herself a viable challenger for the House seat, and was endorsed by prominent politicians like Sarah Palin. In campaign ads, Ellmers attacked the so-called Ground Zero Mosque project in New York City, and what she considered her opponents' silence on the project. 
Ellmers was elected by fewer than 1,500 votes, a margin of just 0.8 percent. After the North Carolina Republican Party helped redraw Ellmers' district, her re-election chances grew stronger, and in 2014, she defeated former American Idol contestant Clay Aiken to earn a second term. 
Positions
After being elected in the Tea Party wave, Ellmers showed herself to be someone who would not vote in lockstep with the Republicans' conservative wing. She supports immigration reform, for instance, and was one of just 10 GOP members who voted against House legislation to overturn  Obama's executive orders that delay deportation proceedings on 4.5 million undocumented workers. Ellmers also has opposed conservative efforts in North Carolina to enact a constitutional amendment to ban same-sex marriage. 
Hard to be a woman
In 2014, Ellmers made headlines for suggesting that the Republican Party needs to tailor its policy messages for a female audience. She was quoted in the Washington Examiner:
"Men do tend to talk about things on a much higher level. Many of my male colleagues, when they go to the House floor, you know, they've got some pie chart or graph behind them and they're talking about trillions of dollars and how, you know, the debt is awful and, you know, we all agree with that.... We need our male colleagues to understand that if you can bring it down to a woman's level and what everything that she is balancing in her life—that's the way to go." 
Before it's here, it's on the Bloomberg Terminal.
LEARN MORE