What to Expect From Obama's Interview With YouTube Stars
Whatever you do, Mr. President, don't try the Cinnamon Challenge.
by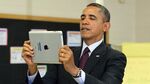 President Barack Obama on Thursday will sit down with three YouTube sensations, who will ask him questions from their fans. The White House is seeking to drum up engagement during an era of sagging State of the Union ratings with the 5 p.m. event.
For anyone who hasn't talked to a teenager lately, YouTube is home to a hefty portion of the celebrity landscape relevant to anyone under the age of 20. Just in case the president hasn't already been briefed by his two teenage daughters, here's what he can expect from his inquisitors. 
Bethany Mota
Who she is: Mota got her start in 2009 making haul videos, in which someone (often a teenage girl) showcases her recent clothing or beauty purchases, sometimes combined with reviews and tutorials on the products. They're more entertaining (and helpful) than they sound, and it's like getting to ask the most popular girl in school for style tips, except she's nice and approachable and won't think you're a weirdo. 
In the past couple of years, Mota has evolved into something of a lifestyle guru for the under-22 set, and the production value of her videos has skyrocketed. They routinely get upwards of 7 million views. 
What the president can expect: Mota's viewership is mainly young women and girls. In the promo video for interview, Mota says her viewers have questions about education, the economy and unemployment. Here's a small sampling:
GloZell Green
Who she is: Green is a comedian and commentator who routinely makes videos in which she participates in online trends. For example, when our nation's future leaders were making videos of themselves trying the swallow entire spoonfuls of cinnamon in what was known as the Cinnamon Challenge, Green rose to the occasion, shoving a ladle full of the stuff into her mouth. No word on whether the president was one of the 42 million people who have watched the ensuing chaos. 
Comic that she is, Green is never afraid to make herself look silly. After the movie "Pitch Perfect" came out, many people posted videos of themselves performing the "Cups" song from the movie. GloZell gave it a shot. 
What the president can expect: In the promo, GloZell says that her viewers have questions about race relations. Here are a few more questions they've tweeted: 
Hank Green
Who he is: Green is the brother of John Green, author of The Fault in Our Stars and several other acclaimed young-adult books. Both brothers make YouTube videos, sometimes together and sometimes in something of a correspondence with one another. They post to a shared channel called "vlogbrothers" and frequently discuss and explain global, economic and social issues.
What the president can expect: The Green brothers have an obsessed following of literary and engaged young people. In the promo, Green said his viewers want to know about unemployment and net neutrality. Here are some of the questions his fans have posed on Twitter: 
Before it's here, it's on the Bloomberg Terminal.
LEARN MORE