The Congressional Anti-Abortion Sit-In That Didn't Happen
by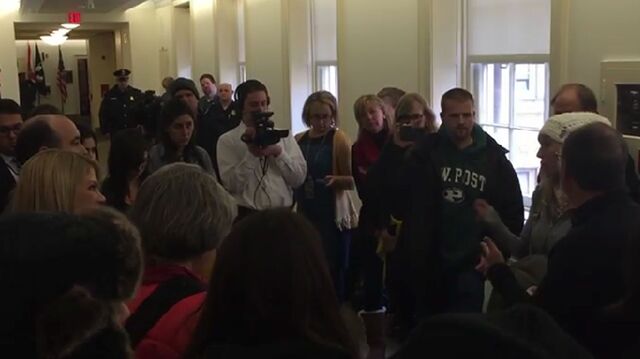 If the anti-abortion movement's rebellion against the House Republicans lasts beyond this week, its first day will be recorded as a fizzle. Five hours after announcing a protest of North Carolina Representative Renee Ellmers' office, more than 100 activists, many of them college age or younger, trundled by her Longworth building quarters to find two staffers standing in front of the door. To their side: A bucket of ice, water and Cheerwine. Behind them: An office that no one would be allowed to enter, for what were described as "space reasons." More than a dozen reporters, including several TV networks, left without some expected footage of holy rollers in mid-arrest.
Lucky for Ellmers, the time between the protest's announcement and its actualization had worked for her. First, the House had passed the No Taxpayer Funding for Abortion bill, another pro-life perennial that had no chance of being signed by Barack Obama, but one, as Family Research Council President Tony Perkins put it, that "more candidates had campaigned on." Second, the pain capable abortion bill that Ellmers was blamed for shredding was being stitched back together. In a conversation off the House floor, Arizona Representative Trent Franks confirmed that he'd been talking to South Carolina Senator Lindsey Graham about crafting a version of the bill that could pass.
Also, the March for Life had happened, tuckering out activists who were generally inclined to be polite. Rev. Pat Mahoney, who'd given the Ellmers office a heads up about the protest, ended up leading a crowd that was happy to sign a guest book and move on. As they signed, some pointed out that they needed to catch buses home to their states in a few hours.
"What we want to see is pro-life lawmakers standing with us, not against us," said Brandi Swindell, operator of a pro-life clinic located next to a Boise, Idaho abortion clinic. "It's disappointing when we have pro-choice, pro-abortion lawmakers. What's really disappointing is when those pro-life lawmakers, that tell us they'll stand with us, don't stand with us. It is beyond troubling."
Mahoney himself engaged in a short dialogue with Ellmers's staff, and led a prayer.
End of protest. Jill Stanek, who'd announced the action and said she was ready to be arrested, stood glumly by as the orgy of politeness continued.
"They won't arrest me unless I break glass or punch somebody," said Stanek. "I could sit on the floor, but that would look lame."
Before it's here, it's on the Bloomberg Terminal.
LEARN MORE