Garcetti Won't Mistake Picking Fights for Vision of Los Angeles
James Nash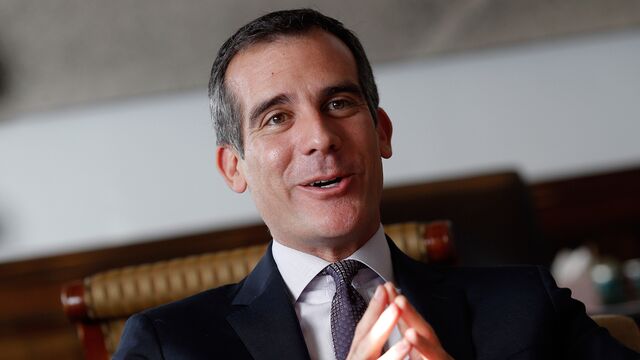 On a flat-panel monitor mounted on his office wall, Los Angeles Mayor Eric Garcetti can see real-time emergency response rates, the number of streets that have been repaved and how well-funded, or not, pension plans are.
At 43, Garcetti represents the next generation of big-city mayors, taking data gathering and analysis to a new level of wonkiness. To hear him tell it, there's no better way to run a metropolis with 163 postal codes, 4 million residents and a reputation for being ungovernable.
"If you're going to be a great mayor," he said last week in an interview at the landmark Art Deco City Hall, "you need to get the details right."
Garcetti, glancing at the screen he calls his dashboard, ticked off some of the triumphs since he was sworn in 18 months ago: More 911 calls are being answered in 10 seconds or less, 70,000 jobs were created and tourism reached a peak of 43.4 million annual visits. His aides provided others, including thousands of potholes filled and twice as many miles of streets resurfaced in June 2014 compared with six months earlier.
"I'm not a big fan of data for data's sake," he said in the Jan. 13 interview, sitting in an armchair a few feet from the upright piano he plays to relax and entertain his staff. "I am a big fan of good governance and trying to run this city as a chief executive, as the charter says, which means basing decisions on facts."
Los Angeles is showing progress across its economy, data compiled by Bloomberg show. Investors are demonstrating increasing confidence in the city's debt with bonds due September 2024 trading at a yield of 1.5 percent, or 0.12 percentage point more than benchmark municipal securities as of Jan. 20. That's less than the 0.22 percentage point average over the past five months.
Inspiring Angelenos
Home values rose 4.8 percent in the first 10 months of last year, outpacing the 2.8 percent rise in New York and 3.65 percent in Chicago, though shy of the 8.5 percent gain in San Francisco. Real estate development is improving, with the value of construction permits up 55 percent in the last three months of 2014 compared with the same period a year earlier.
Since July 2013, when Garcetti took office, the 31 Los Angeles-based Russell 3000 members produced a total return of 52 percent, more than twice that of the benchmark's 23 percent gain.
Garcetti's critics including Richard Riordan, who was mayor from 1993 to 2001, pan the mayor for not setting sweeping goals that could inspire Angelenos.
"What you have with Garcetti is a very smart person, a Rhodes Scholar, good-looking," said Riordan, the last Republican elected mayor. "But he's not getting things done."
'Grand Vision'
The jobless rate in greater Los Angeles is 7.2 percent, the highest of the largest 10 metropolitan areas and 1.4 percentage points above the national rate. Worse, about 62 percent of residents spend 30 percent of more of their gross income on rent and utilities -- the most for any U.S. city.
Garcetti smiled when challenged about whether his agenda for the second-most populous U.S. city is ambitious enough, or too focused on streets and telephone switchboards.
"Sometimes people mistake 'grand vision' for whether or not you pick fights," he said. "I'm willing to fight. I'm not going to pick fights unnecessarily and mistake that for a vision. People should never think that the details aren't part of a grander plan."
Garcetti said his vision is for reliable municipal services, upgraded roads, earthquake-proof water lines, more affordable housing and expanded transit networks to help secure the city's place as what he called the "creative crossroads of the world."
Worst Traffic
The son of former District Attorney Gil Garcetti, the mayor has Mexican, Italian and Jewish heritage. He's the first practicing Jew and only Rhodes scholar to be elected mayor of Los Angeles; he earned a bachelor's degree in political science and a master's from the School of International Public Affairs at Columbia University and went on to the University of Oxford and the London School of Economics. He taught international affairs at the University of Southern California and Occidental College before winning a City Council seat in 2001.
In 2013, he was elected mayor with 54 percent of the vote. Then he took over a city "strangled" by the worst traffic congestion in the U.S., with more poverty than any other major urban area, growing inequality between the poorest and richest residents and "failing" public schools, according to a December 2013 report by the Los Angeles 2020 Commission. The panel of civic leaders was headed by former U.S. Commerce Secretary Mickey Kantor.
Minimum Wage
The commission followed up in April 2014 with recommendations such as synchronizing municipal elections with the federal calendar to boost voter turnout and combining the neighboring ports of Los Angeles and Long Beach, to make them more competitive. The Port of Los Angeles, governed by commissioners appointed by the mayor, is the nation's largest with 8.3 million 20-foot equivalent units loaded and unloaded last year, the most since 2007. Still, it's lost market share, accounting for 31 percent of West Coast imports and exports in 2013, down from 35 percent a decade earlier.
Garcetti has acted on only a few of the commission's suggestions, identifying, for example, the city's selling points in bioscience and technology. He has his own ideas. He's proposed lowering the tax on gross business sales to $4.75 from $5.07 per $1,000, with an eye toward eliminating it altogether. He's urging the council to set a city minimum wage in 2017 of $13.25 an hour; the city doesn't have a floor now. The state's minimum will be $13 in 2017, and San Francisco's will be $14.
Generation X
That $13.25 wasn't decided on lightly, Garcetti said. "I've talked to economists who have looked not at fear, but at data. I know there's a number that's too high where you lose jobs. I know that raising it can also result in the creation of jobs and new spending."
Garcetti didn't pioneer the idea of using numbers to guide a municipal government, said Morley Winograd, who headed former Vice President Al Gore's National Partnership for Reinventing Government from 1997 to 2001.
As the youngest Los Angeles mayor in more than a century, Garcetti is taking the government-by-numbers approach to new heights, said Winograd, a senior fellow at the University of Southern California. He exemplifies "the Gen X generation that loves data, the meat-and-potatoes results."
Michael Bloomberg, the founder and majority owner of Bloomberg News parent Bloomberg LP, made data interpretation a hallmark of his three terms as New York's mayor. Los Angeles will receive as much as $2.6 million over three years from Bloomberg Philanthropies to restore blighted streets and minimize the effect of gentrification on low-income residents, Garcetti said Dec. 15. It's one of a dozen cities participating in a $45 million expansion of the charity's data-driven initiative.
'Creative Thinking'
In his first six months in office, Garcetti directed city departments to collect reams of data -- on everything from how many employees completed emergency-preparedness courses to how many tons of cargo arrived at the Port of Los Angeles -- and to post the numbers on a city website. The approach will foster "creative new thinking" about municipal operations, Garcetti said in his executive directive.
Not all of the statistics flatter him. Road paving, which increased in the last year of Villaraigosa's tenure, leveled off in Garcetti's first. Police emergency operators are answering fewer non-emergency calls within 20 seconds. Water pipelines are springing more leaks.
The city's civilian pension plan had 67.4 percent of the assets needed to pay retirement benefits as of June 2014, down from 68.7 percent a year earlier.
Small-Bore Issues
Garcetti, who checks the numbers on his smartphone, pushed to reduce retirement benefits for new employees of the municipal utility as part of a contract deal reached six weeks after he took office. He cited the contract as one of the "fights" he didn't shy away from.
At this point, Garcetti deserves credit for tackling small-bore issues like potholes while raising weightier matters, said Fernando Guerra, director of the Thomas and Dorothy Leavey Center for the Study of Los Angeles at Loyola Marymount University. "If you think about the major issues in Los Angeles, Garcetti is at least addressing them, and he's doing so in a way where the politics aren't eating him up."
Garcetti and his wife, Amy Wakeland, live at the official mayoral residence in the city's Hancock Park neighborhood. They married in 2009, about 15 years after meeting when both were Rhodes Scholars headed to England. The couple has fostered several children and adopted one, Maya, who is 3.
Instagram Account
The mayor, who sometimes rides his bike to work, has embraced social media. He has 11,700 followers on the picture-sharing site Instagram, more than his counterparts in New York and Chicago, and posts impressionistic shots of lighthouses, the California coast and urban street scenes, and a few shots of himself.
He fits the mold of Los Angeles mayors as low-key bureaucrats operating in the shadow of Hollywood stardom, with the most recent exception of his immediate predecessor, Antonio Villaraigosa, said Raphael Sonenshein, executive director of the Edmund G. "Pat" Brown Institute for Public Affairs at California State University, Los Angeles.
"He didn't come in with an expansive agenda and start implementing it on Day One," Sonenshein said. "Instead he spent his first year basically laying the groundwork for his mayoralty."
Garcetti took himself out of contention for the open Senate seat Villaraigosa is considering. To skeptics like Riordan and Jack Humphreville, an activist with the city's network of neighborhood councils, that was a sign of a calculating politician waiting his turn at higher office. To Sonenshein, it means that after 18 months of tinkering under the hood of municipal government, Garcetti is getting ready to step on the gas.
"For a young guy he's been pretty patient," Sonenshein said, "but I think you can expect to see he'll be much more ambitious in his second year."
Before it's here, it's on the Bloomberg Terminal.
LEARN MORE