White House Cries Foul Over Boehner Overture to Bibi
Usually one head of state reaches out to the other before a visit like this.
by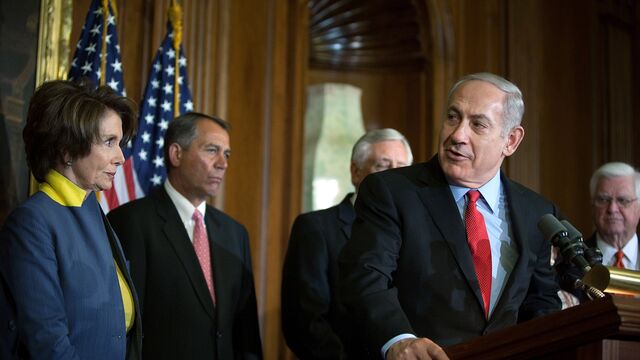 It seemed President Barack Obama had pulled off a bit of a diplomatic power play last week when he got U.K. Prime Minister David Cameron, while in Washington at a joint news conference with Obama, to tell Congress not to pass any Iran sanctions while nuclear talks are ongoing.
But House Speaker John Boehner has figured out how to one-up Obama, and if Israeli Prime Minister Benjamin Netanyahu goes along with Boehner's plans, it's likely to add pressure to the already tense dynamic between Obama and Netanyahu.
In a move that the White House is calling a "departure" from protocol, Boehner said Wednesday that he has invited Netanyahu—who doesn't like the nuclear negotiations and says Iran can't be trusted—to come to Washington next month and address a joint session of Congress as lawmakers debate more Iran sanctions. Boehner went public about his overture a day after Obama reiterated in his State of the Union speech that he'll veto any Iran sanctions legislation that could cause the negotiations to collapse.
Obama press secretary Josh Earnest said Wednesday that the White House had gotten word about Boehner's invitation "shortly before the official announcement" and that typical practice is for one head of state to reach out to another. 
"We're going to reserve judgment on the trip until we've had an opportunity to talk to them about what exactly they're planning," Earnest told reporters traveling aboard Air Force One.
Boehner said the invitation was in-bounds. "The Congress can make this decision on its own," he said at a news conference, insisting that "I do not believe I am poking anyone in the eye."
Obama and Netanyahu, who sat down together at the White House last March, have struggled over the years to project an image of a unified front even as their apparent coolness toward one another and divisions over how to approach the Mideast peace process and engagement with the Iranians have strained that message.   
Billy House, Terry Atlas, and Annie Linskey contributed to this report.
Before it's here, it's on the Bloomberg Terminal.
LEARN MORE