The One Crucial Issue Obama Left Out
In his State of the Union speech, just as the accused shooter's trial was getting underway, the president remained oddly silent about guns.
by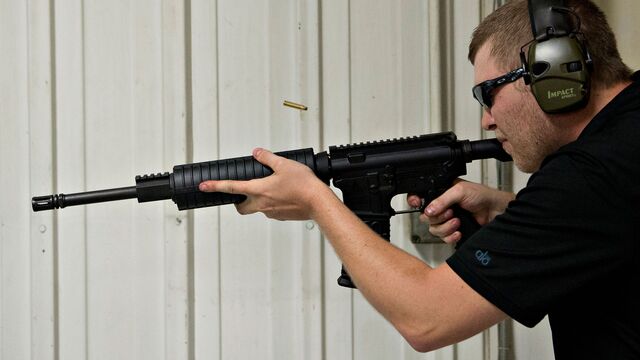 On Tuesday morning, 1,700 miles west of the U.S. Capitol, a 27-year-old man sat in a courtroom in Centennial, Colo., wearing tortoise-shell glasses and a bushy beard. James Holmes stands accused of killing 12 people and wounding 70 during a midnight premiere of the Batman film The Dark Knight Rises, 2 1/2 years ago. He was arrested outside the cinema moments after, in black combat gear and shocking orange hair. The same day that President Barack Obama delivered his 2015 State of the Union address, more than 100 prospective jurors  (9,000 were called, the highest number in U.S. history) filed into the Arapahoe County courthouse.
The theater attack in Aurora, Colo. is one of the few events in Obama's presidency that inspired him to speak in personal terms, to imagine his own family in such terrible circumstances. "My daughters go to the movies. What if Malia and Sasha had been at the theater?" he asked. He spoke about the need for new restrictions that would keep mentally ill people from purchasing weapons, restrictions that "should be common sense," he said. But little changed by the time, five months later, another troubled young man staged a massacre that seemed utterly random, killing 20 children and 6 adults at Sandy Hook Elementary School in Newtown, Conn.
That was in December 2012. At his 2013 State of the Union address, Obama, with two dozen victims of gun violence sitting in the gallery, finished his speech by urging Congress to take measures for gun control.  He said:
"I know this is not the first time this country has debated how to reduce gun violence. But this time is different. Overwhelming majorities of Americans– Americans who believe in the 2nd Amendment–have come together around commonsense reform–like background checks that will make it harder for criminals to get their hands on a gun. Senators of both parties are working together on tough new laws to prevent anyone from buying guns for resale to criminals. Police chiefs are asking our help to get weapons of war and massive ammunition magazines off our streets, because they are tired of being outgunned. Each of these proposals deserves a vote in Congress…

"Gabby Giffords deserves a vote.

"The families of Newtown deserve a vote.

"The families of Aurora deserve a vote."
Gun-control advocates crossed their fingers and said their prayers; it seemed like "this time" indeed might have been "different." But in 2014, the president gave only two sentences to the subject, with a mention of tragedies in "movie theaters, shopping malls, or schools like Sandy Hook."
And then Tuesday—in a speech many called 'defiant' for its bold embrace of action he probably won't really be able to take—Obama essentially left the subject out. He said that he has "mourned with grieving families in Tucson and Newtown, in Boston, in West Texas and West Virginia," but only in a passage underlining the determined, "big-hearted" nature of "the American people who, every day, live the idea that we are our brother's keeper, and our sister's keeper." Gabby Giffords's husband's twin brother, an astronaut, was in the audience, and came in for mention.
In fairness, Obama has moved to tighten gun laws. A year ago, he proposed new gun background check measures. In June, in a conversation moderated by the founder of Tumblr, he called his "biggest frustration" as president "the fact that this society has not been willing to take some basic steps to keep guns out of the hands of people who can do just unbelievable damage."
"It happens now once a week, and it's a one day story," he said. "Our levels of gun violence are off the charts. There is no advanced, developed country on earth that would put up with this. This is becoming the norm in ways that, as a parent, are terrifying to me." He added, "But right now, it's not even possible to get even the mildest restrictions through Congress, and we should be ashamed of that."
It's hard to imagine that Obama's beliefs have changed in the intervening months. And yet, watched by millions—including all of Congress—in a speech many called 'defiant' for its bold embrace of action he probably won't really be able to take, where the president talked big plans with command and ease we hadn't seen in a time, Obama did not once utter the word 'gun.' 
Before it's here, it's on the Bloomberg Terminal.
LEARN MORE