Students Who Haven't Been Vaccinated Banned from School Following Disneyland Measles Outbreak
An outbreak of the childhood illness has infected dozens in California.
by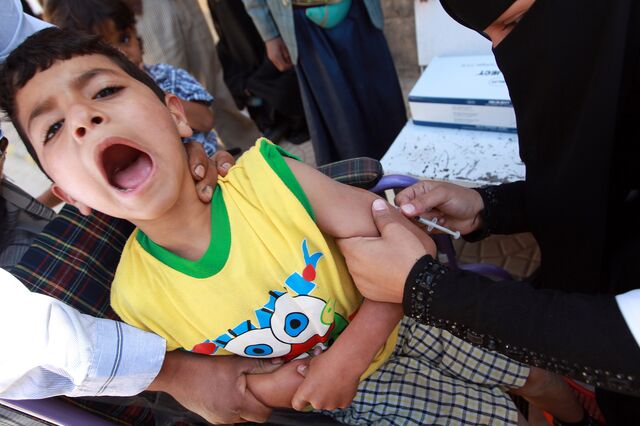 Health officials in Orange County, Calif. have banned two dozen students who have no immunization records from attending high school in the wake of a measles outbreak that has been traced back to Disneyland. 
Sixty-seven confirmed measles cases have been reported in California in the current outbreak. One student from Huntington Beach High School who was infected with the disease attended class following winter break, exposing fellow students to the highly contagious illness, especially those who did not receive a childhood vaccination against it. 
"If there is a case in the school and their child is not immunized, they will be removed from the school for 21 days," Dr. Eric Handler, the Orange County public health officer, told the Los Angeles Times. "From an epidemiological standpoint, in order to prevent spread of the disease, this is a necessary measure."
There are just two U.S. states that do not allow parents to forgo vaccinations for their children based on either religious or philosophical grounds, Mississippi and West Virginia. In Southern California, where parents can be granted exemptions for either reason, many schools now report that upwards of 10 percent of students have not received childhood vaccinations. In Northern California, the figures are even worse, with clusters of under-vaccinated children in the San Francisco Bay Area resulting in one out of every four children going without the recommended immunizations. 
When the percentage of people in a population who forego vaccination rises above eight percent, experts say, herd immunity breaks down. A growing number of parents across the United States haver opted out of having their children vaccinated based on the belief that the immunizations represent a health risk. 
"Unless we do something about, you know, say, 10 percent of the population susceptible, we're in for a long winter and spring," Dr. James Cherry, a UCLA pediatric infectious diseases research professor, told the Times. 
Before it's here, it's on the Bloomberg Terminal.
LEARN MORE