Reid to Have Eye Surgery After Accident
Kathleen Miller and Kathleen Hunter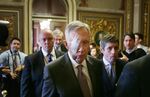 Harry Reid, the U.S. Senate's top Democrat, will have surgery next week to try to restore full vision to his right eye, according to a spokeswoman for the Nevada lawmaker.
The surgery is scheduled for Jan. 26 at George Washington University Hospital and Reid will work from his Washington home for the rest of the week to minimize strain on his eye, spokeswoman Kristen Orthman said in a statement on Wednesday.
Reid suffered three broken ribs, a concussion and broken facial bones near his right eye socket in a New Year's Day accident that occurred when he was exercising.
"His broken ribs are healing well and he will continue to maintain a busy schedule next week as his right eye heals," Orthman said.
The accident kept Reid from the start of the new session of Congress this month. That meant Reid -- who lost his majority leader post to Republican Mitch McConnell of Kentucky -- missed the swearing in of 13 newly elected senators, all save one of them Republicans.
He also missed Tuesday night's State of the Union address by President Barack Obama.
Senator Richard Durbin of Illinois, the No. 2 Democrat in the chamber, has filled in for Reid on the Senate floor. Reid has been able to work from his Washington office this week, his spokeswoman said.
'Hope So'
Reid returned to the Senate Tuesday to attend Democrats' weekly caucus lunch. Heading into the lunch, Reid -- whose right eye was covered by a gauze patch -- was asked by reporters whether he would fully regain his vision and responded, "Hope so."
The Nevada lawmaker can see only light out of his right eye, said a Senate Democratic leadership aide who asked for anonymity to provide details that haven't been made public. The surgery was recommended because doctors think Reid has a chance to regain sight in the eye, the aide said.
In a Jan. 9 interview with Nevada's KNPR radio station, Reid was asked if the accident has caused him to reconsider plans to seek re-election to the Senate in 2016.
"No, not really -- no, no," Reid, who will be a Republican target, said at the time.
This is one of several hospital visits for Reid in the past 10 years. He suffered a mild stroke in August 2005 while in his hometown of Searchlight, Nevada.
Also, Reid was taken to a hospital in October 2012 with minor injuries when his motorcade was involved in an accident in Las Vegas. In May 2011, Reid fell while running in Washington and dislocated his right shoulder.
Before it's here, it's on the Bloomberg Terminal.
LEARN MORE