Rupert Murdoch, Kim Kardashian, and the New Politics of Nude
The hiatus in the tabloid king's page 3 pinups may mean that objectification is out of fashion—but self-objectification is a different matter.
by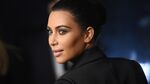 On Monday, Page 3 of the Sun, Britain's best-selling newspaper, bore breasts not bare, but covered in skimpy lingerie. Tuesday brought actresses on a beach, wearing swimsuits. The tabloid had published a daily topless photo since 1970, just months after Rupert Murdoch purchased the Sun and promised the former owners that he would print a "straightforward, honest newspaper." Last September, Murdoch tweeted that he considered the Page 3 feature "old-fashioned." The octogenarian mogul is right: there's something decidedly retrograde in Page 3's brand of soft-core porn. This week, at last, the Sun made way for tops.
Online feminism, care of the crusading @NoMorePage3 account, and a number of supportive members of Parliament, called itself victorious. The U.K.'s education secretary called the change "long overdue." But Murdoch's not known for making adaptations in the interest of liberal progress. The newspaper —which, like Murdoch's other holdings, isn't exactly known for its ethical scruples—may have realized the context, that in 2015, another kind of sexy still is more du jour. And anyway, Tuesday, the Times of London, another of Murdoch's papers, reported that the Sun would "still run topless photographs on its page3.com website." Then late in the day Wednesday, The Sun tweeted Page 3 for Thursday—yet another bare chest, on a winking blonde. "Clarifications and corrections," the banner read. Below: "Further to recent reports in all other media outlets, we would like to clarify that this is Page 3 and this is a picture of Nicole, 22, from Bournemouth." Troll much? Murdoch must have been unhappy to be lauded by the feminist left.
In trying to comprehend the current politics of nudity, it's illustrative to note another cleavage-heavy-but-not-quite-topless image that emerged Tuesday. In a hard-to-miss, harder-to-forget tweet, Kim Kardashian announced her latest project.
Selfish, which comes out on April 28, will be a 5x7 book of selfies, many never seen before. Kardashian has been loathed, slurred as trashy—and worse—for her manner of ascension, but there's no denying that she is a singular media power. Observing the male gaze, she has exploited it like no other. Girl can will herself anywhere, to the cover of Vogue and to the most prestigious coffee-table-set publisher there is, Rizzoli.
The publisher's abstract for the book trumpets Kim as a "true American icon. …  Widely regarded as a trailblazer of the 'selfie movement'—a modern-day self-portrait of the digital age—Kim has mastered the art of taking flattering and highly personal photos of oneself."
The feminist politics of Kim Kardashian are complicated—if they can be called feminist at all. Many dislike the chicken-and-egg-like dance by which she plays into what men want, and laps up the rewards. But this may be a kind of realism, and a smart one: she is the impresario of her body and its representations. Kardashian is our day's incontestable content queen, master of the self-made, self-making American dream. And power is power: when it comes to her own likeness, she, not Rupert Murdoch, is cashing in.  
Before it's here, it's on the Bloomberg Terminal.
LEARN MORE