Obama Pledges to Veto Measures Weakening Dodd-Frank
Clea Benson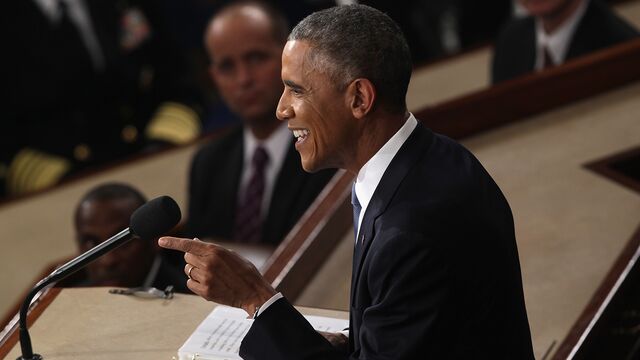 President Barack Obama pledged to veto any legislation that weakens new curbs on Wall Street as banks and the Republican-led Congress increasingly seek to roll back the Dodd-Frank financial-regulation law.
Obama included the message in his State of the Union speech Tuesday after the House approved a measure last week that would loosen some restrictions in the 2010 law. His remarks also come as Wall Street re-emerges as a force in Washington, having successfully attached one of its top legislative goals to a government spending bill that lawmakers approved at the end of last year.
"We can't put the security of families at risk by taking away their health insurance, or unraveling the new rules on Wall Street, or re-fighting past battles on immigration when we've got a system to fix," Obama said. "If a bill comes to my desk that tries to do any of these things, it will earn my veto."
Congress approved Dodd-Frank in response to the nation's worst financial crisis since the Great Depression. Banks and politicians who opposed it have been counting on Republicans to ease burdens of the law that they say are holding back the U.S. economy. On the campaign trail last year, Senate Majority Leader Mitch McConnell of Kentucky repeatedly referred to Dodd-Frank as "Obamacare for banks," a play on the president's health-insurance law that Republicans have vilified.
Despite Obama's veto threat, he has signed broad bills in recent weeks that included rollbacks of Dodd-Frank. This month, lawmakers in both houses of Congress included a change to the law in a bill that extends a government subsidy for terrorism insurance.
The federal budget bill enacted in December included a provision that allows banks to continue trading almost all derivatives in divisions that have government backstops like deposit insurance.
Before it's here, it's on the Bloomberg Terminal.
LEARN MORE