Joni Ernst Says Republicans Will Seek to Undo Obama Economic Policies
Kathleen Hunter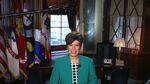 The new Republican-led Congress will seek to undo damage caused by President Barack Obama's economic policies and health-care plan, freshman Senator Joni Ernst said in her response to the president's State of the Union address.
"We heard the message you sent in November -- loud and clear," Ernst of Iowa said Tuesday in a televised address following Obama's speech. Her remarks come two weeks after Republicans took control of the U.S. Senate for the first time in eight years and expanded the House majority they won in 2010.
Ernst, 44, is the first woman elected to federal office from Iowa and the Senate's first female combat veteran. She's the second woman lawmaker in a row chosen to give the Republican response to Obama's speech to Congress. Representative Cathy McMorris Rodgers of Washington had that role last year.
"It's a smart move to have Senator Ernst give the response because she is a woman representing a competitive blue state in the 2016 elections," said Republican strategist Ron Bonjean, an aide to former Senate Majority Leader Trent Lott of Mississippi. "It shows that she's seen as an up-and-coming strong player in the Senate and that there's high expectations that she's going to be a political influence among her colleagues."
'Loophole Ridden'
In her speech, Ernst called for revamping the "outdated and loophole-ridden tax code" and shifting away from Obama's signature 2010 health-care law and other economic policies, which she said have hurt low-wage workers.
"We see our neighbors agonize over stagnant wages and lost jobs, we see the hurt caused by canceled health-care plans and higher monthly insurance bills," she said. "Americans have been hurting, but when we demanded solutions, too often Washington responded with the same stale mindset that led to failed policies like Obamacare."
Like Obama, Ernst called for compromise on trade policy, where the White House and congressional Republicans have identified some common ground.
The State of the Union response, given each year by the party not in control of the White House, is viewed as a potentially high-reward opportunity and often given to those who, like Ernst, are seen as rising stars in their party.
'New Face'
"The attraction for her is she is a new face, so people will be interested in her in a way that -- if it was John Boehner -- they wouldn't be," said Cary Covington, a political science professor at the University of Iowa in Iowa City. "Her job is going to be to get women to listen to the Republican message for 2016. That's a large part of what she's doing."
In recent elections, women have overwhelmingly backed Democratic candidates for president, a cycle Republicans are trying to break.
Democrats, meanwhile, panned her selection as evidence that Republicans won't be breaking away from the influence of the Tea Party, which backed Ernst.
"I, for one, was a little bit surprised," said Jim Manley, a former aide to Senate Democratic Leader Harry Reid of Nevada. "I thought that they would have tried to find someone who had some more mainstream provisions than she's focused on in the past."
Ernst, for example, has supported making English the official language of the U.S. and has called for shutting the federal education department and privatizing student aid.
Castrating Hogs
Ernst broke onto the national scene last year with a campaign ad in which she bragged that she would use her experience castrating hogs on an Iowa farm to make Washington "squeal."
"So when I get to Washington, I'll know how to cut pork," she said, adding, "Washington is full of big spenders. Let's make them squeal."
She staged an upset victory in a presidential battleground state that Obama twice won, after beating four other Republican candidates in last June's primary. Ernst went on to defeat four-term Representative Bruce Braley by 8.5 percentage points on Nov. 4. She succeeds retired five-term Democrat Tom Harkin.
Ernst has already begun to build a national profile. She received campaign help from potential White House aspirants, including Florida Senator Marco Rubio, who delivered the 2013 Republican State of the Union response, and 2012 Republican presidential nominee Mitt Romney, who is exploring another run.
"You couldn't have had broader support than she had within the Republican party from the moderate to the right," said Senator Chuck Grassley, an Iowa Republican.
Rubio's Speech
The response speech carries risks. Rubio's address two years ago was generally well received except for an impromptu interruption for a water break during which Rubio, in front of the camera, gulped from a Poland Spring bottle. That prompted comments on Twitter, including one from Rubio poking fun at himself by posting a picture of the bottle.
"The State of the Union response is only usually remembered if the Republican screws up," Bonjean said.
Wisconsin Representative Paul Ryan's 2011 State of the Union response helped elevate his profile the year before presidential nominee Romney chose him as his running mate. Louisiana Governor Bobby Jindal's 2009 performance was panned and seen as hampering his national political aspirations.
For most people selected to give the State of the Union response, there's "a heck of lot more downside than there is upside," Manley said.
"Whoever is selected is put in an almost impossible position," he said. "You can't possible compete with a sitting president standing before Congress like that."
Before it's here, it's on the Bloomberg Terminal.
LEARN MORE