Boehner Invites Netanyahu to Address Congress
Terry Atlas and Billy House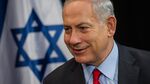 President Barack Obama faces an escalating challenge from lawmakers seeking new Iran sanctions legislation, as House Speaker John Boehner invited Israeli Prime Minister Benjamin Netanyahu to address a joint meeting of the U.S. Congress next month.
Republicans, who control both houses of Congress, and some Democrats are pressing to set new sanctions on Iran that would take effect if there is no deal on the Islamic Republic's nuclear program in talks with world powers by a June 30 deadline.
The invitation to Netanyahu to speak Feb. 11 came hours after Obama said in his annual State of the Union address that he would veto any new sanctions measure while negotiations with Iran are under way. Such legislation would "all but guarantee that diplomacy fails -- alienating America from its allies and ensuring that Iran starts up its nuclear program again," Obama said.
Boehner signaled that Congress will challenge Obama by pressing ahead with legislation, a strategy that has been backed by the biggest pro-Israel lobby, the American Israel Public Affairs Committee.
In addition, Republican Senator Bob Corker of Tennessee, chairman of the Foreign Relations Committee, said he wants legislation giving Congress veto power over any agreement that the U.S. and other world powers may reach with Iran.
Netanyahu, who has warned against "a bad deal" that would let Iran maintain some nuclear capabilities, plans to accept the invitation, according to an Israeli government official who spoke on condition of anonymity. That may add to his often strained relationship with Obama.
White House Excluded
"I did not consult with the White House" before inviting Netanyahu, Boehner said at a news conference Wednesday. "The Congress can make this decision on its own. I do not believe I am poking anyone in the eye."
White House spokesman Josh Earnest said "we haven't heard from the Israelis at all" and that the invitation by Boehner "seems to be a departure" from usual diplomatic protocol in which a head of state reaches out to another head of state when a foreign trip is planned.
The escalating sanctions dispute comes ahead of the March 24 deadline for reaching the political outline of a deal between Iran and world powers, which would extend the clock to June 30 for an accord on full implementation. It also comes before the March 17 Israeli elections, in which Netanyahu's uneasy relations with Obama have been an issue.
'Credible Chance'
The Senate Banking Committee has scheduled a vote Jan. 29 on sanctions legislation, though lawmakers have said that new measures would take effect only if there's no comprehensive deal with Iran by the June 30 deadline.
At the year's first congressional hearing on Iran sanctions, Deputy Secretary of State Antony Blinken said Wednesday that there's a "credible chance" of reaching a nuclear deal with Iran. A move toward new sanctions would "risk fatally undermining our diplomacy," Blinken told the Foreign Relations Committee.
He noted that view was shared publicly by U.K. Prime Minister David Cameron when he met with Obama last week, and he said that French and German leaders also will express their concerns about congressional action in coming days.
In response to questions, Blinken didn't rule out a further extension of the talks beyond the June deadline. While the U.S. and allies say Iran has been seeking the capability to develop nuclear weapons, Iran's leaders say the country's nuclear program is solely for civilian purposes.
'Provocative' Steps
Democratic Senator Robert Menendez of New Jersey defied Obama, saying further sanctions are needed because Iran has been taking "provocative" steps while negotiations between the Islamic Republic and six world powers drag on.
"After 18 months of stalling, Iran needs to know that there will be consequences for failure," he said. "Now some of us believe those consequences should be additional sanctions."
Democratic Senator Barbara Boxer of California countered that new sanctions "would give Iran an excuse to walk away" from the talks. She said she's working with Republican Senator Rand Paul of Kentucky to draft an alternative to legislation by Menendez and Republican Senator Mark Kirk of Illinois.
The Menendez-Kirk legislation would impose additional sanctions that would take effect if Iran doesn't agree to a comprehensive accord acceptable to Congress.
Oil Sanctions
David Cohen, U.S. Treasury undersecretary for terrorism and financial intelligence, said in prepared testimony to the committee that sanctions relief granted to Iran while the talks are under way "pales in comparison" to oil sanctions that cost more than $40 billion in 2014.
Responding to Corker's call for an up-or-down vote on any agreement with Iran, Blinken said the president has the authority to conclude an accord because it isn't a treaty requiring Senate ratification. He said Obama also has the authority to waive existing Iran sanctions in that situation. A congressional vote would be needed at some unspecified future date to lift sanctions permanently, he said.
A provision for a congressional veto would complicate the negotiations by raising questions for Iran about whether the U.S. would stand by a deal, Blinken said.
Corker said he has spoken with Cameron, EU officials and Israelis and heard "no one say that if Congress were to weigh in on the final agreement it would in any way destabilize the negotiations."
Before it's here, it's on the Bloomberg Terminal.
LEARN MORE