Biden Says There's a Chance He'll Run for White House
Elizabeth Wasserman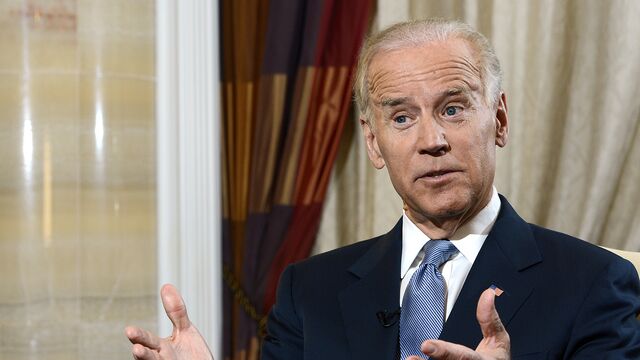 U.S. Vice President Joe Biden is leaving the door open to a possible 2016 White House bid.
Biden told ABC's "Good Morning America" Wednesday that he sees the contest for the Democratic nomination for president as "wide open," even though former Secretary of State Hillary Clinton -- widely considered a front-runner -- has yet to announce her candidacy.
"Yes, there is a chance," Biden, 72, said in the interview. "But I haven't made my mind up about that. We've got a lot of work to do between now and then. There's plenty of time."
Biden said he wouldn't decide until summer about another bid for the presidency. He said Clinton is "really competent, capable person and a friend."
"I think this is wide open on both sides," Biden said in the interview a day after the president's State of the Union address to Congress. "Right now my focus is getting implemented what the president talked about last night: to nail down this recovery and get the middle class back in the game."
In 1988 and 2008, Biden unsuccessfully sought the Democratic presidential nod but dropped out both times. In the 2008 campaign, Barack Obama selected Biden to be the party's vice presidential nominee. Both won re-election in 2012.
'Clearest Vision'
"The person who is going to be the next president of the United States," Biden said in the ABC interview, "is the one who is going to be able to articulate the clearest vision to the American people of where they're going to take the country."
Biden, making the rounds of morning news shows following Obama's annual speech, also spoke about the shooting outside his home in Delaware on Jan. 17.
Police found "no evidence of bullet holes anywhere," he said on NBC's "Today" show. Biden said it may have been a random incident because of later reports of similar shots being fired down the road near his New Castle County, Delaware, home.
"I feel completely safe being there," he said. "I'm not worried about it. I think the security of my home is fine."
On "CBS This Morning," Biden echoed some of Obama's talking points, saying that progress in Iraq shows the U.S. should "double down" on its strategy to combat Islamic State militants, which has included drone strikes and supporting indigenous fighters in the region.
"In Iraq, we now have a more unified government; the Sunni, Shia and Kurds are beginning to work together," he said.
Biden says the increased presence of Islamic State militants in Syria is due to "a dysfunctional country with nobody in charge."
"It's going to take time, and there is no existential threat to the United States because of what's going on there, but there's a threat in the region," Biden said.
Before it's here, it's on the Bloomberg Terminal.
LEARN MORE