Andrew Cuomo's Very Own Women's Party
The governor invented the Women's Equality Party to win an election—but is it anything more than a website and phone number?
by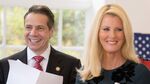 Governor Andrew Cuomo's political imagination has always been at its most fertile when it comes to covering his left flank. Cuomo, who gives New York's State of the State address on Wednesday afternoon in Albany, has already divulged a suite of liberal plans for the new year, like a property-tax break and an increase to the minimum wage. Last July, facing reelection, Cuomo founded the Women's Equality Party "as an answer to the assaults on the basic rights of women." Many on the left saw the move as cynical: a way to tap into on a moment of popular feminism while damaging the social democratic Working Families Party, a sort of heir to the American Labor Party that has found success as part of the "progressive wave" responsible for electing politicians like New York City Mayor Bill de Blasio and Massachusetts Senator Elizabeth Warren.
Cuomo dismissed that line of thinking as "really tortured analysis," and blazed on. He said that the Women's Equality Party's agenda "empowers women in a way that's never been done." He pointed out, "We've never had a women's party. This is the home of Seneca Falls." He cited Susan B. Anthony in his party platform, and put his daughters and his girlfriend in a campaign ad.
It worked. In November, Cuomo won reelection against an underfunded Republican challenger, with 54 percent of the vote. More than 50,000 of the New Yorkers who voted for him did so on the Women's Equality Party line—it's a pretty great party name—which assures the young party a place on the ballot in 2016.
But what does Cuomo plan to do with his new party? The website for the W.E.P. seems not to have changed since November, at least in verb tense. "Help us make history on November 4th by voting to establish the Women's Equality Party as a powerful voice for the rights of women," its "about" page welcomes. As for "candidate Pledges": "This November, women and their allies are demanding change by sending a strong message to legislators in Albany—pass the full 10-point Women's Equality Act… Now, you can know exactly who supports full equality before heading to the voting booth." 
I have reached out to the only address I find on the W.E.P.'s website multiple times since November, with never a response.
The majority of the W.E.P.'s expenses during the campaign—which included a state tour aboard a handily named Women's Equality Express bus—were paid for by Cuomo and his running mate, Lieutenant Governor Kathy Hochul. Campaign finance disclosures show that the Women's Equality Party received donations from only nine people, including three women. They were Marilyn B. Chinitz of Greenwich, Conn., and Carol M. Joseph and Sheila Ginsberg Riesel of the Upper West Side.
Each donated $2,500, and each happens to be a partner at the law firm Blank Rome, LLP. After calling all three, I reached Riesel at her office on a morning in November. She told me that the party solicited donations at the firm, and knew offhand the other two women who contributed. She said that women's equality was of great importance to her—that she has had a "very good run as a practicing lawyer" and understands the difficult circumstances other women face. Riesel said she would give "enthusiasm and support to any organization devoted to the women."
The same could probably said of the the governor. He has proposed a Women's Equality Act in the New York legislature before, which he may tout in his State of the State address. (This year, it's being combined with his executive budget proposal into the "2015 New York State of Opportunity Agenda"). But that measure has never passed, and under a Republican-controlled state Senate, it may still not. The questions, as often with Cuomo, are: Can he turn his shrewd gambit into an actual policy? Does he even want to? 
Before it's here, it's on the Bloomberg Terminal.
LEARN MORE