Which of the Identical Joni Ernst 'Castration' Profiles Should You Read?
The sameness of every GOP response preview story.
by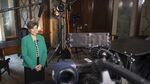 State of the Union day is a rambling series of Boorstinian pseudo-events. The official "response" to the president is the pseudo-est of them all–a speech written without access to the address it's "responding" to, delivered by a party star who represents whatever it is the opposition needs to promote. In 2007, this meant Democrats putting forward new Virginia Senator Jim Webb to make the case against the Iraq War. In 2009, for Republicans, it meant putting up Louisiana Governor Bobby Jindal against the nation's first black president. (At the time, Jindal was the only non-white Republican governor.) In 2015, it means Republicans putting forward new Iowa Senator Joni Ernst, about whom every media profile says basically the same thing.
Seriously, every one of them. ABC News:
In November, Iowans elected Ernst as the first woman to ever represent the state in Congress. She catapulted to political stardom with an ad about castrating hogs, making "Let's make 'em squeal" a hallmark of her campaign.
Mrs. Ernst, who grew up castrating hogs on a farm in Iowa, gained prominence with her "make 'em squeal" ads, vowing to take her hog knife to a big-spending federal government.
Ernst broke through a crowded GOP primary field with a campaign ad in which she said her rural roots and experiences castrating hogs would serve as training for how she would cut pork in Washington.
Ernst burst onto the scene during the 2014 mid-term elections, gaining notoriety for a campaign ad in which she discussed castrating hogs on an Iowa farm, promising to "cut pork" in Washington if elected.
Freshman Iowa senator Joni Ernst, who surprised political observers with her come-from-behind win in last year's Republican primary, saw her national profile elevated by a television ad in which she spoke about castrating hogs on an Iowa farm.
Ernst, the gun totin', hog castrating freshman Republican senator from Iowa will give her party's response to the State of the Union.
She rose to prominence with a striking campaign ad highlighting how she "grew up castrating hogs on an Iowa farm" and pledged to bring that pork-cutting talent to Capitol Hill, where she vowed to "make 'em squeal."
The Fiscal Times, in a useful listicle of little-known Ernst facts:
She made headlines when she declared in a popular ad, "I grew up castrating hogs on an Iowa farm. So when I get to Washington, I'll know how to cut pork." 
In this rundown, the Daily Beast and the Fiscal Times stand out with profiles that go beyond Ernst's immaculately crafted image. She did not emerge on the political scene, fully formed, with a pair of shears in one hand and a pair of something else in the other. She was a smart politico who won her first office, county auditor, 10 years before her Senate bid. When Mitt Romney launched his second presidential bid, Ernst chaired his campaign in Montgomery County. (Romney ended up winning just 95 caucus votes in the county, good for a distant second place to Rick Santorum.) 
Just as Barack Obama preferred voters to see him as a post-partisan outsider, Ernst preferred voters see her as a farm girl who was blessed to serve. Both of them won over more than Iowa. They won over a narrative-hungry press corps, one that in Ernst's case was keen to see the Iowa race turning on folksiness and farm stories.  Mother Jones, which notes that Ernst "rose to prominence last spring when she released a campaign ad about castrating a pig," is almost alone in noting that she "has endorsed English as a national language and once sued Iowa's secretary of state for offering voting forms in languages other than English." 
Ernst's victory—its timing on election night officially clinched the Republican Senate—now looks like the apex of the new GOP's enthusiasm. Not long after the elections, Obama signed an executive order that deferred deportation for millions of immigrants; the Congress failed to stop him; two dozen Republicans registered disapproval by opposing John Boehner's re-election as Speaker of the House; and Obama's poll numbers have ticked up to the highest levels since 2013. Ernst's ability to be seen as forever "folksy" is a boost at the right time.
Before it's here, it's on the Bloomberg Terminal.
LEARN MORE