What Do 4 Tons of Texas Brisket and Lady Antebellum Have to Do with 2016?
Everything's bigger in Texas, including the community of Republican political donors.
by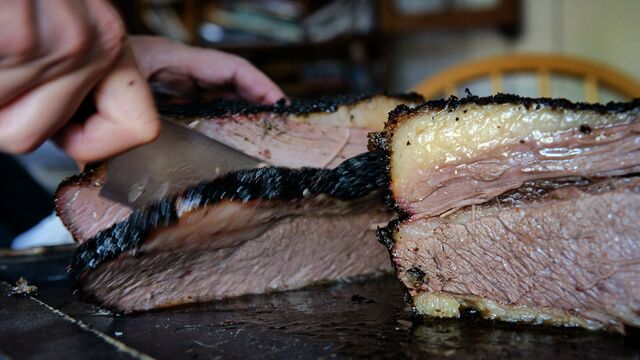 There's nothing modest about the manner in which incoming Texas Governor Greg Abbott will take office Tuesday in Austin. His swearing-in ceremony includes a 21-gun salute and an F-16 flyover, followed by a gluttonous barbecue with 4 tons of brisket and 1,700 pies. The day closes out with a Lady Antebellum concert for 10,000 Abbott supporters at the convention center.
All told, this will probably be the most expensive Texas inauguration ever. But the estimated $4 million tab is no problem for the state's Republican donors. It's almost a rounding error, compared to what they're about to spend on the 2016 presidential election.
The roster of potential candidates includes four with deep Texas roots, and several more with powerful in-state allies. They're already having dinners at million-dollar homes in the Houston suburb of River Oaks and speed-dialing top Republican money-raisers like Fred Zeidman of Houston. 
"We don't just pump oil here, we pump huge amounts of campaign money," said Craig McDonald, director of Texans for Public Justice, a campaign finance watchdog. McDonald can't remember a pricier inaugural spectacle than Abbott's; Governor Rick Perry's most recent bash was about half the cost.  Since Texas has no limit on campaign contributions, "people are more than used to writing these huge checks," McDonald said.
Texas has been the top go-to state for Republican campaign cash in the past two federal elections, according to the Center for Responsive Politics, providing approximately $172 million in 2012. And those are just the small-potatoes donors, who adhere to contribution limits. During the last presidential race, five of the top 20 Republican super-PAC benefactors were Texans, signing over an additional $61 million, the center's research shows. Super-PACs can accept checks of unlimited size.
The Lone Star State's political giving portfolio is poised for expansion thanks to the Texas ties of the 2016ers. Perry was governor for 14 years. Perry's predecessor, former President George W. Bush, will undoubtedly tap his in-state cash network to help his brother, Jeb.  Family will also count for Rand Paul, whose father was a Texas representative, and the state's junior senator, Ted Cruz, may also make a presidential bid. 
Mitt Romney raised more than $35 million from Texans last time around. And don't forget about New Jersey Governor Chris Christie, whose Dallas Cowboys fandom means he probably can at least count on team owner Jerry Jones for a little cash assistance. 
It all has Zeidman feeling a bit like a matchmaker. He said he's getting calls from donor friends who want to help one of the would-be candidates, and calls from the would-be candidates' aides who want help from his donor friends.
"It's fun to raise money down here," Zeidman said. "Everyone wants to participate."
Zeidman bundled money for Romney in 2012, Senator John McCain in 2008 and President George W. Bush's two elections and has strong relationships with several of the men now weighing campaigns. "I don't think you're going to see this whole state get behind any single candidate," he said, "not with so many of them who have strong Texas roots."
That's probably why the 2016 Texas money chase has already started.
Dallas businessman Ray Washburne has signed on to raise money for Christie. Bush, who has a pair of political action committees going, put Texas on his initial January money-raising map. Cruz, who toppled David Dewhurst in 2012 thanks to his small-donor Tea Party appeal, has been rushing to make connections with Houston's business elite donors, the Houston Chronicle reported this month.
Perry is up next. Now excused from the daily grind of running a state, Perry can fully turn his attention to his presidential ambitions. So while Tuesday's inauguration is Abbott's party, it's Perry who'll really be celebrating.
In an interview with WFAA Channel 8 News, North Texas barbecue maven Eddie Deen, who's catering the Abbott inauguration, described why he errs on the side of having way too much food ready on Tuesday: "Everybody deserves a piece of pie."
He might as well have been talking about the presidential hopefuls, and here's a shortlist of some Texas donors who just might give it to them:
T. Boone Pickens
The billionaire Dallas oilman was telling reporters back in October to watch for another Romney run.
Robert Rowling
A reliable GOP donor, the billionaire co-founder of a holding company out of Dallas put more than $3.6 million into 2012 super-PACs to help Romney.
Bob McNair
The owner of the Houston Texans football team was an early backer of Perry in the last presidential race, then invested $2 million in Romney during the general election.
Trevor Rees-Jones
A billionaire oil executive in Dallas, he contributed in 2011 to a super-PAC helping Perry and then switched to Romney. 
Drayton McLean Jr.
Chairman of a holding company in Houston, McLean goes back decades with the Bush family.
Kenny Troutt
The billionaire Dallas investor wrote checks to super-PACs backing Perry and then Rick Santorum (who also may run again) in the previous presidential primary. Read: He's probably not a Romney fan.
Before it's here, it's on the Bloomberg Terminal.
LEARN MORE