Mitch McConnell Is Really Looking Forward to the State of the Union
The Kentucky Republican offers some last-minute tips for President Barack Obama.
by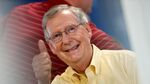 While fewer and fewer Americans show interest in listening to the president's State of the Union speech, count Senate Majority Leader Mitch McConnell among the most interested. "We look forward to hearing what he has to say," McConnell said with a smile Tuesday while speaking from the chamber floor.
"Tonight is a big moment for the president, and the country," he said. "The tone he strikes and the issues he highlights will tell us a lot about what to expect in his presidency's final act. There's a lot riding on it."
McConnell, who became the first Republican to take over the Senate in eight years, urged the president to "make a different choice" from the "path he's been on for so many years."
The Kentuckian offered a few tips for the president, urging him to strike a conciliatory tone and find common ground where he can work with the party holding majorities in both the House and Senate to help "struggling families."
"What we've seen at least so far, has been pretty discouraging," McConnell said. "We need to change this dynamic. We need to turn the page. The State of the Union offers that opportunity."
Before it's here, it's on the Bloomberg Terminal.
LEARN MORE