Mike Huckabee on Minimum Wage Increase: It Depends
The potential White House candidate resists a "yes" or "no" answer on whether he'd support a hike.
by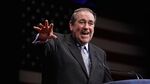 Potential presidential candidate Mike Huckabee on Tuesday successfully avoided creating a sound bite of himself saying that he would or would not support raising the minimum wage. 
Appearing on MSNBC's "Morning Joe," the Republican was asked repeatedly whether he would support a federal minimum wage increase, including if it could be used as a bargaining chip in exchange for approval of the Keystone XL pipeline, and resisted giving a "yes" or "no" answer.
The former Arkansas governor said that however much the wage might be increased, it still could not realistically support a family. He said it would be a mistake to think "the government can set a new bar that's the lowest common denominator" and expect people to become more prosperous as a result. 
"Can a person really live on $10 an hour? No. Not really. So what are you going to do if you raise it to $10 an hour?" Huckabee said. 
Asked twice more if he would vote for specific wage-increase measures, Huckabee gave variations of "it depends."
Later in the segment, host Mika Brzezinski asked him one more time whether it was possible to raise the minimum wage, telling him not to answer with another question. His response: "I think it's possible, but the question is, 'Does that—'"
Brezezinski cut him off, asking for a "yes" or "no."
"That's how you govern," Huckabee said. "That's how you negotiate. You ask, 'What does this do?' You don't just say 'yes' or 'no.'"
Before it's here, it's on the Bloomberg Terminal.
LEARN MORE