Fox News Faces a New Foe: The Entire City of Paris
The mayor of Paris claims she's going to sue the conservative network for libel.
by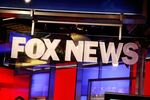 The day of the Charlie Hebdo attacks in Paris, Fox News commentator Eric Bolling took to the air with a hot take. Noting that the police officers guarding the headquarters of the satirical newspaper may not have had handguns, Bolling then compared New York City and Paris over what he considered the lax security in the two cities. "You're taking a law enforcement tool out of their hands," he said, before shifting blame to New York's mayor. "One of the first things Mayor de Blasio did here is he said we're going to pull stop and frisk. … Why are we pulling law enforcement tools out of their hands? Why are we taking that away?"
On Tuesday, de Blasio was in Paris, touring the distraught city with Anne Hidalgo, the first female mayor of Paris. Hidalgo herself saw similarities between the two cities of light, posting on Facebook that "Paris and New York are two sister cities that recent dramas have approached even more than before. My friend Mayor Bill de Blasio and I share the same values and the same ideal." (The Parisian mayor knows a thing or two about friendship: last week, she held a microphone up to James Taylor as he sang "You've Got a Friend.")
The two mayors might also have bonded over a common enemy. Shortly after retweeting photos of herself in a warm embrace with de Blasio, she retweeted Christiane Amanpour's news alert: "Paris is going to sue @FoxNews after image of Paris was 'insulted' and 'prejudiced.'" In a CNN clip, Hidalgo says that the honor of Paris is at stake, and names the network responsible: "C'est la Fox News," she pronounced, l'Arc de Triomphe in blurry silhouette behind her. Amanpour's network, CNN, has already crafted a meme-ready, poster-like tweet with her announcement:
The issue behind the proposed suit is that, after the attack, Fox News ran multiple reports describing parts of Paris, along with the city of Birmingham, England, as "no-go zones," where only Muslims can enter, and where sharia law, not state law, rule. The report was widely ridiculed. On Le Petit Journal, a popular French show, the host Yann Barthès squawked and mocked and replayed, like a bereted Jon Stewart crossed with David Beckham. Comics from the program feigned fear outside a couscous spot, and a kebab shop. With this forceful and hysterical rebuttal, Barthès asked his viewers to email and to tweet Michael Clemente, a Fox head. David Cameron called Steve Emerson, the "terror expert" with whom the Birmingham comments originated, "clearly a complete idiot." The prime minister said, "Frankly, I choked on my porridge."
On Saturday, Fox News apologized four times on air for making "regrettable errors on air."
"To be clear, there is no formal designation of these zones in either country, and no credible information to support the assertion there are specific areas in these countries that exclude individuals based solely on their religion," Anchor Julie Banderas said.
The problem is that, for some, the no-go zones were a useful fiction. Louisiana Governor Bobby Jindal employed the same rhetoric, and refused to apologize for doing so. "I knew that by speaking the truth we were going to make people upset," he told CNN. "The huge issue, the big issue in non-assimilation is the fact that you have people that want to come to our country but not adopt our values, not adopt our language and in some cases want to set apart their own enclaves and hold on to their own values."
Michael Clemente, the Fox executive that "Le Petit Journal" targeted, replied Tuesday afternoon with a statement. He said, "We empathize with the citizens of France as they go through a healing process and return to everyday life. However, we find the Mayor's comments regarding a lawsuit misplaced." 
The lawsuit is unlikely to be successful as more than a symbolic gesture. But with it, the knot of free-speech issues raised by the Charlie Hebdo attacks has become even more tangled: Apparently, nous sommes aussi Fox News.
Before it's here, it's on the Bloomberg Terminal.
LEARN MORE