Eight Years Ago, Hillary Clinton Crashed President Bush's State of the Union
by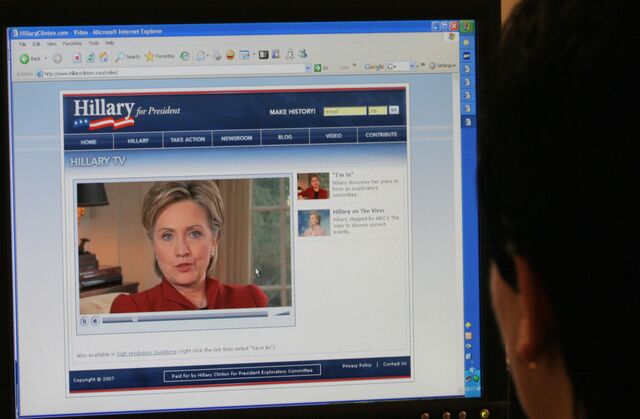 Eight years ago Tuesday, then-Senator Hillary Clinton became the first former first lady to declare her intention to run for president. "I'm in, and I'm in to win," she said.
In a video posted to her website, Clinton, sitting on a beige couch in a comfortable living room, said she was beginning "a conversation with you, with America" on how to bring an end to the war in Iraq, make American energy independent, and end the deficits threatening Social Security and Medicare. 
At the time, gas prices were going up and President George W. Bush had committed an additional 20,000 troops to the increasingly unpopular war in Iraq earlier in the month (Clinton's adviser's told the Washington Post that they specifically timed her announcement to coincide with Bush's State of the Union address.) Clinton was, as she is now, the frontrunner, but as we know now, that only means so much. 
Clinton, of course, went on to lose the Democratic nomination to first-term Senator Barack Obama, serve as secretary of state, spend the last year as the de facto frontrunner for the 2016 presidential election, and learn to take her time when it comes to stating her intentions. Here's a look at where we were at this point in the 2008 election.
Who else was in? 
At the time, NBC Nightly News noted that Clinton was joining "a crowded Democratic field." In 2007, that group included the following: 
What the media said 
"Clinton's announcement, while widely anticipated, was nonetheless an historic moment in a fast-developing campaign that has already seen the emergence of a formidable black contender, Democratic Sen. Barack Obama of Illinois," wrote the Associated Press. 
The Boston Globe noted that her video, which gave the impression of a small group setting, mirrored the successful "listening tour" she took ahead of her 2000 New York Senate campaign. But Edwards and Obama were also in the mix. "She's the national front-runner, but she's not the runaway favorite anymore," John Zogby, a pollster in upstate New York, told the Globe. "She's running against Jack Kennedy and Bobby Kennedy," he said.
As several publications noted, however, while Clinton was well regarded as a senator, even by independents and Republicans, "her early support for the Iraq war, however, and her unpopularity in the 1990s have stirred doubts among Democrats about whether she can win the presidency." Some things don't change: in 2016, Clinton's biggest problems include her perceived hawkishness and the drama of the events of the '90s.
Before it's here, it's on the Bloomberg Terminal.
LEARN MORE