Early Birds Get the Best Seats for State of the Union
More than 12 hours before the president speaks, Congress members begin staking out their spaces.
by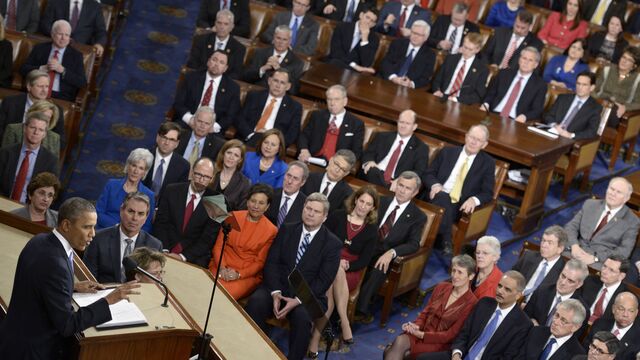 As predictable as the return of the swallows to San Juan Capistrano, Representative Eliot Engel of New York arrived in the U.S. House chamber more than 12 hours before President Barack Obama's State of the Union address.
He was not alone at 8:30 a.m.—as a handful of other members arrived early to also claim their own center-aisle seats.
This is a 26-year ritual for Democrat Engel, the dean of the early birds. And he is not a bit embarrassed to explain why—it's all so his constituents can see him along the aisle, in prime time on national television, shaking the president's hand before the speech.
"It's still fun," Engel said. "My constituents look for me, like seeing me, expect me to be there. It can even be months later and someone will still come up to me and say—I saw you on TV with the president."
Democrats Sanford Bishop of Georgia and Al Green and Sheila Jackson Lee of Texas were among those who also arrived early to claim their aisle seats. This year, Engel said Bishop and Green even beat him into the chamber. But no one has done this dance this longer.
Engel said his determination to get an aisle seat began during George H. W. Bush's first appearance before Congress in 1989, when former Representative Sonny Montgomery of Mississippi told him about the benefits of getting to the chamber early: Those who do so can greet the president personally.
And so Engel has followed that advice, never gotten snubbed, and shook hands with Republican and Democratic presidents, alike.
Engel says he also manages to get a lot of work done while waiting for the big event. He brings with him two full briefcases, along with his iPhone, and passes the time doing paperwork or making calls—free, he says, from much of the usual interruptions. The early birds help each other out by guarding their colleagues' seats for restroom breaks.
Normally, said Engel, the temperature is dialed back a bit, to compensate for the warmth caused by the 750-odd people who will fill the room for the president's speech.
"But this year it is freezing," he said. "We're not taking it personally, but we're wearing sweaters."
Before it's here, it's on the Bloomberg Terminal.
LEARN MORE