Cuomo Proposes Raising N.Y. Minimum Wage to $10.50 an Hour
Freeman Klopott and Luzi Ann Javier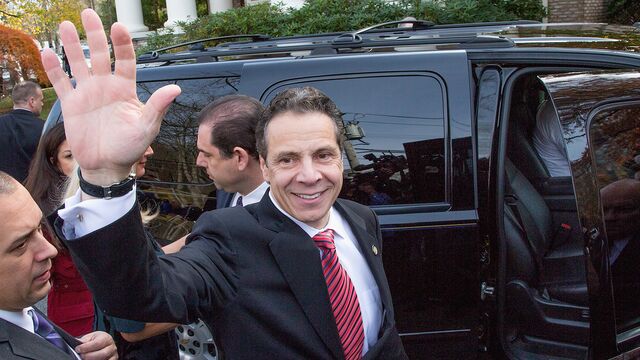 Governor Andrew Cuomo proposed raising New York's minimum wage to $10.50 an hour, the highest among U.S. states, and boosting the baseline for hourly pay in New York City to $11.50.
The measure, announced by Cuomo at a news conference in Manhattan Sunday, stops short of giving Mayor Bill de Blasio the control he has sought over raising the wages in the most populous U.S. city.
"When you get a job, that job has to pay enough for you to pay for food" and housing, Cuomo said. "The wage gap is continuing to grow."
The minimum wage rose in twenty states from Hawaii to Connecticut on Jan. 1 after voters approved ballot measures and legislatures enacted laws, according to the National Conference of State Legislatures. In nine of the states, the lowest pay increased because of indexing to inflation. Washington has the highest among states with an hourly rate of $9.47.
New York's minimum wage is currently $8.75 per hour and will rise to $9 on Dec. 31 under a deal Cuomo struck with lawmakers in 2013. The federal minimum is $7.25 an hour. Cuomo said his proposal for $10.50 would be the highest minimum set by a state.
The minimum-wage legislation is part of a broader initiative Cuomo described Sunday to tackle poverty in the fourth most-populous state. It includes a $42 million plan to cover the costs of federal Pay As You Earn loans for the first two years for college graduates who live in New York and earn less than $50,000 annually.
Re-Election Campaign
Cuomo, 57, promised during his 2014 re-election campaign that he'd press to raise wages as U.S. President Barack Obama, a fellow Democrat, asked state and local governments to increase pay for the lowest earners amid federal gridlock. Hourly earnings for all employees dropped by 0.2 percent in December, the biggest since comparable records began in 2006, a Jan. 9 Labor Department report showed.
"What's really crucial about what the governor said today was recognizing that New York City's cost of living requires an even higher minimum wage than the rest of the state," Stuart Appelbaum, president of Retail, Wholesale and Department Store Union, said in an interview in Manhattan today. "It is a huge development. We will be very happy if the legislature goes ahead and enacts this."
The legislation for raising the minimum wage will be included in the budget Cuomo will propose Jan. 21. It differed from a deal Cuomo struck with the union-backed Working Families Party in May in return for their support in the November election. Cuomo agreed at the time to allow local governments to raise wages above the state minimum on their own, as was wanted by de Blasio, who brokered the accord.
Cuomo's measure will face an obstacle in the Republican-controlled state Senate. Majority Leader Dean Skelos, of Long Island, already has said he isn't interested in raising pay further.
Working Families Party co-chairwoman Karen Scharff said raising the minimum to $10.50 statewide is a step in the right direction.
'Missed Opportunity'
"Governor Cuomo's proposal is also a missed opportunity to raise the wage to what New Yorkers really need," Scharff, who is also director of Citizen Action of New York, said by e-mail. "New York should be a national leader by raising the minimum wage to $15 an hour."
Cuomo also put forward a plan, to be part of the Jan. 21 budget proposal, to lower the net-income tax rate for 42,000 small businesses to 2.5 percent, the lowest since 1917, over three years from the current 6.5 percent, according to an e-mailed statement.
It would fall to 3.25 percent for tax year 2016, 2.9 percent for 2017 and finally 2.5 percent in 2018. When fully phased in, the tax cuts would cost $32 million annually and apply to companies with fewer than 100 employees with a net income of less than $390,000 annually, according to the statement.
Cuomo also said he plans to invest $486 million to help provide low-cost housing with the help of $257 million from the state's share of a settlement with JPMorgan Chase & Co. In a November 2013 agreement, the firm paid $13 billion, including $613.8 million to New York, to end investigations into mortgage-bond sales, according to the U.S. Justice Department.
Another plan proposed by the governor Sunday would provide $50 million to faith-based organizations to help them compete for grants and build relationships with each other to develop job training, housing and other programs for the poor.
Before it's here, it's on the Bloomberg Terminal.
LEARN MORE