European Countries Prepare Response to Islamist Terror
Thomas Penny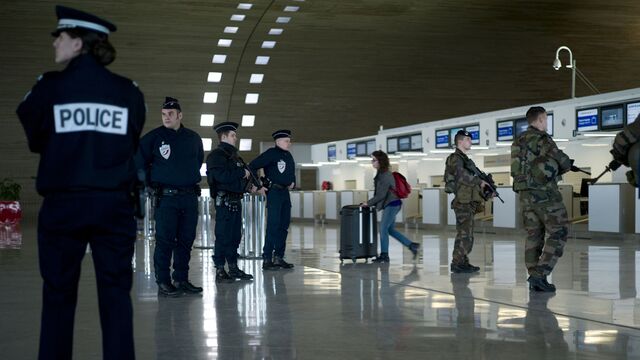 European governments will focus on better police cooperation and improved intelligence in an initial response to the terror threat from Islamist extremists following the attacks in France.
European Union foreign ministers meet today in Brussels. A second meeting, in London on Jan. 22 and involving more than 20 countries including the U.S. and Arab states, will focus on defeating Islamic State, the radical group which dominates large areas of Syria and Iraq.
"We have to strengthen the way we cooperate," EU foreign policy chief Federica Mogherini told reporters today before the Brussels meeting. "We need to share information more, we need to cooperate more also among member states."
The meetings come after Belgium deployed troops on the streets and Britain increased patrols in Jewish communities in the wake of the massacre earlier this month in France that saw 17 people killed by Islamist extremists. The leader of a terror cell broken up in eastern Belgium last week is still at large, the Belgian government said.
"What these terrorists represent is the perversion of a major religion," U.K. Prime Minister David Cameron said in an interview with CBS TV during a visit to Washington. "They're not its true adherents, they are fanatics who've attached themselves to a death cult."
Islamic State
European terrorists have been inspired by the Islamic State and there is increasing concern about the influence returning fighters are having on domestic extremists. A group of about 30 British women based in northern Syria has been using social media accounts to recruit extremists to carry out attacks in Britain, the Observer newspaper reported, citing research by the London-based International Center for the Study of Radicalization.
"This threat keeps morphing, because it's the same fundamental problem: extremist Islamist terror," Cameron said. "But whereas the majority of it was coming from the Afghanistan-Pakistan area, now you see more of it coming out of Iraq and Syria."
Belgian prosecutors said some members of the terror cell broken up last week in the eastern town of Verviers had returned from fighting in Syria. Two people were killed by officers in that raid.
'Serious Challenge'
Security forces have arrested at least 28 people across the continent since the Paris attacks and the threat is an "urgent and very serious challenge," Europol Director Rob Wainwright told Sky News on Jan. 17.
Pegida, a German anti-Islam group, canceled a planned protest in Dresden on Monday evening after a meeting with police over security concerns. A threat to attack a member of the group, which DPA reported was leader Lutz Bachmann, had been received and it would be "irresponsible" to go ahead, Kathrin Oertel, a Pegida spokeswoman, said in an e-mail. The group attracted 25,000 people to a Jan. 12 demonstration in Dresden.
Belgium is deploying as many as 300 soldiers to protect potential targets such as Jewish neighborhoods, EU institutions and embassies. The European Commission, the EU executive in Brussels, raised its alert level one step to "yellow" -- the third-highest level -- while the government of Belgium has its alert at the second-highest level for police installations across the country.
Other Suspects
Belgian authorities arrested three of the 13 people who were detained in raids on Jan. 15. Belgium is seeking extradition from France of two other suspects arrested there, according to Eric Van Der Sypt, spokesman for the Belgian federal prosecutors. The authorities also will seek to extradite one of the two suspects detained in Athens on Jan. 17, the prosecutors said on Sunday, according to broadcaster RTL.
Belgium has the highest number of jihadis per capita among western European countries, data from the ICSR show. The government estimates that, as of October, 350 Belgian nationals had traveled to Syria and Iraq since violence escalated there almost four years ago and more than 70 of them have returned.
As the anti-terrorism campaign continues, Abdelhamid Abaaoud is the main target of Belgian prosecutors, newspaper La Derniere Heure reported, without saying where it got the information. Abaaoud is thought to be the leader of the terror cell dismantled on Jan. 15, according to the newspaper. He had traveled to Syria to join the Islamic State, he has since left for another country, La Derniere Heure said.
At Large
Belgian Justice Minister Koen Geens said on Sunday that the leader of the group broken up in Verviers is still at large, without naming the suspect. The arrests on Saturday in Greece did "not get hold of the right person," Geens told Belgian television. "We continue to actively seek" the suspect, he said.
Authorities in the Niger capital Niamey used tear gas to disperse crowds of opposition supporters on Sunday, the Associated Press reported, after two days of violence which left 10 dead. About 20 churches were set on fire by people protesting against the publication of cartoons of the prophet Muhammad.
Sudan and Mauritania also reported demonstrations, Kenya threatened to close a newspaper for reprinting a cartoon and Benin said the depiction was a provocation.
Before it's here, it's on the Bloomberg Terminal.
LEARN MORE