Romney Prepares Republicans for a Third Presidential Campaign
"I'm giving some serious consideration to the future," he tells Republicans at a San Diego confab.
by and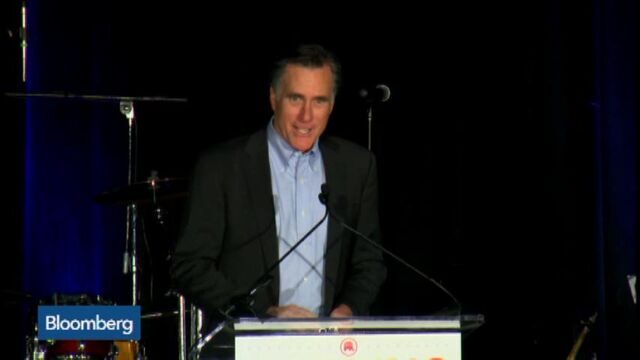 SAN DIEGO—For three days, Republicans congregated at a 19th century resort on the Southern California coast listening to potential presidential candidates, hashing out their primary debate schedule and making plans for the 2016 national convention in Cleveland. But there was just one thing that party leaders and activists wanted to discuss: What is Mitt Romney up to?
As quickly as Jeb Bush had forced the field of would-be Republican presidential candidates to hit the fast-forward button last month when he began to raise money and corner the market of political advisers, Romney has frozen them. Romney's revelation last week that he's considering a third presidential campaign gave donors pause and suspended decisions for the consultancy class as they—along with the party's grass roots—tried to figure out how things might be different for Romney this time around.
"What's changed since 2012?" asked South Carolina Republican Party Chairman Matt Moore. "If the strategy is the same, the result will be the same. I'm not trying to be negative, just realistic. The electorate seems to be clamoring for new faces. We ought to let other people make their case."
After three days featuring some of those new faces—Wisconsin Governor Scott Walker and retired neurosurgeon Ben Carson among them—Romney got his own chance late Friday, speaking to about 250 people on the USS Midway aircraft carrier. "I'm giving some serious consideration to the future," Romney told them, suggesting that he hadn't made an ultimate decision. "Regardless of what happens in the primaries and the political process that goes on, Ann Romney and I are going to be fighting for our nominee and make sure we win back the White House, because the American people deserve it."
While it was clear the party faithful retains a deep respect for Romney, it was also apparent that esteem is based on his role as a party elder, and not so much on the prospects for a third campaign. Walker's speech on Thursday, in which he repeatedly talked about the need for fresh ideas, fresh campaign strategies and fresh faces inspired Reed Galen, a California Republican strategist who worked on both of George W. Bush's presidential campaigns, to compare Romney's chances in 2016 to an overripe banana. "He's past his prime," Galen said.
Reince Priebus, the Republican National Committee chairman, also used a comestible to redirect the anxiety over Romney's potential third bid, which he described as just more excitement for the party. "There's intrigue, there's drama," Preibus told reporters. "That's all great for our party. I think it's the other side that's boring, stale, day-old bread."
For his part, Romney opened his speech by joking that he's definitely not going to run again for (wait for it…) the U.S. Senate seat in Massachusetts. For a crowd looking for any kind of signal or head-nod from their 2012 nominee, the joke won some polite laughs but seemed to fall flat.  
Romney said his wife, Ann, is with him. "She believes people get better with experience," he said. "And heaven knows I have experience running for president."
He then sketched out the basic outlines of a potential campaign, saying the nation would be focused on a post-Obama era and taking a swipe at the front runner for the Democratic presidential nomination by saying, "The results of the Hillary Clinton-Barack Obama foreign policy have been devastating," he said, adding that "terrorism is not on the run."
Sounding every bit like a candidate, Romney said the party needed to be focused in 2016 on three things: Making the world safer; ensuring that all Americans have an equal chance at opportunity; and lifting the poor out of poverty. "If we communicate those three things effectively, the American people are going to be with us, with our nominee and with our candidates across the country," Romney said.
Whether Romney is the best messenger for those points remains unclear. Some Republicans declined to put their skepticism on the record after the speech.
Still, it remains very early in the process and Romney has time. In his speech, he sounded humbled by the support he received in 2012, and congratulated Republicans for delivering a series of resounding victories in 2014. "This is a friendly crowd," Romney, dressed in an open collar and dark blazer, said as the audience welcomed him with a standing ovation. "Gosh, it's good to be back with so many friends."
Republicans say they've improved the 2016 primary process since the last time Romney ran. During their meeting, they capped the number of primary debates at 12, about half as many as four years ago, limiting the opportunities for candidates to damage each other on stage. The party also compressed the calendar, moving up primaries to compel candidates to look beyond the traditional early contests.
"It's still to early to tell whether he's going to be able to get past 2012," Kris Warner, West Virginia's national committeeman, said after the speech. "But I have a lot of faith in the new process right now. The RNC has made sure a candidate, like Governor Romney, doesn't get slaughtered over the summer like a sitting duck."
There was similar hand-wringing at the joint congressional Republican retreat this week in Hershey, Pa., where opinions on Romney settled into two camps. Some lawmakers thought that Romney would have been a fantastic president and should run again. Some thought he would have been a fantastic president but should hang it up.
"As much as I admire and respect and supported Governor Romney, I don't know if the third time's a charm," said Representative Charlie Dent, a moderate whose district includes Hershey. "This is going to be more about the future than the past."
At the same time, Dent was ready with reasons why America would have been better off had Romney been president the last two years. "He's been vindicated on many fronts," Dent said. "On Russia, on the economy, I think he's been correct. His economic policies would have been stronger. It's been six years since the financial meltdown and now we've final seen a couple of good quarters, but I think we would have grown more robustly and would have seen growing wages under Governor Romney. We'd have made some changes to the health care law, and the health care law is driving up a lot of costs and eating into wages."
Representative Jason Chaffetz of Utah, who might be Romney's biggest booster in Congress, made an even stronger argument for a Romney economy.
"We wouldn't have the income disparity we have now," said Chaffetz, imagining the country had Romney won. "The upper income levels are doing just fine under Obama. If you look at the bottom 50 percent of America, their incomes aren't changing. This economy is still exceptionally difficult for them. Under Obama, ironically, the rich are getting richer. There's more income disparity under President Obama than there ever would have been under President Romney. That's the irony of this whole thing."
Chaffetz added that Romney could remake his image and run as an anti-poverty candidate in 2016. "That was a mistake in 2012," Chaffetz said. "He should have made the case for capitalism and for our way of doing business in the United States."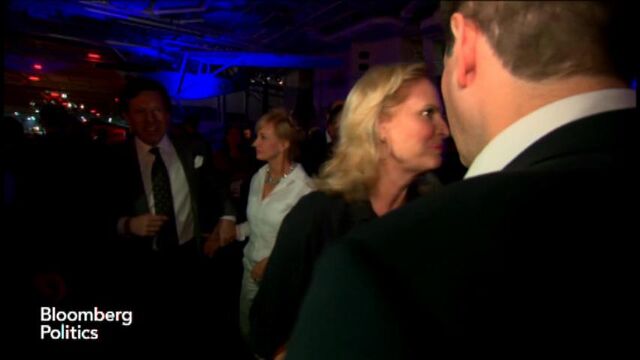 Before it's here, it's on the Bloomberg Terminal.
LEARN MORE