Why the GOP's Data Geeks Are Hoping for a Long, Hard-Fought Primary
More candidates in more states mean more voter data in the burgeoning Republican voter file—which could come in handy in 2016.
Sasha Issenberg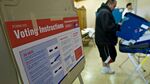 CORONADO, Calif.—Among those who will be happy to see Mitt Romney launch another campaign (along with any other well-funded candidate who wants to follow him, however quixotically, into the 2016 primary field) are the otherwise impartial Republican National Committee staffers overseeing new investments in the party's national voter file. 
The party will grant access to the database to all of its presidential hopefuls, RNC chief of staff Mike Shields confirmed Thursday at the party's winter meeting outside San Diego. In return for access to profiles of every voter in the country—registration records, demographic and consumer details from private-sector sources, along with original modeling of generic political attitudes and behavior—the candidates will be obliged to return to the party all intelligence gathered from their own interactions with voters.
 That process should be complete in time for the party's July convention, Shields says, which will allow the presidential ticket, along with other party nominees for offices at all levels, to benefit from it in the fall. (Primary contenders will have full, proprietary control of the data they generate until then.) Data that flows to the party's voter file typically consists of the results of contacts with voters through both paid and volunteer canvasses and phone banks.  This includes information on candidate preferences, volunteer habits, issue positions and priorities, and updated contact information. 
This type of arrangement between candidates and state and national parties is fairly standard. But until recently, Republicans lacked the technological infrastructure to ensure that the work of losing campaigns didn't disappear with them. Last year, in advance of the midterm elections, the RNC developed mobile canvassing apps that automatically synced field data with party servers, to ensure that all interactions would be reported in real time. In a November memo, the RNC estimated that 70 percent of its voter contacts were being tracked via such apps during the 2014 election season, compared to just 5 percent in 2012. (In many of the remaining cases, information gathered by hand never even migrates from clipboard to digital form at all.)
 A large field of well-organized candidates waging a wide-open and sprawling primary campaign, however politically bloody, could amount to a national census for a party still trying to modernize its practices around voter data. In particular, lists of voters who say they support Jeb Bush and Rand Paul and Mike Huckabee would be a reliable manifest of ideological factions useful to any nominee working to hold together a fractious coalition in November.
Before it's here, it's on the Bloomberg Terminal.
LEARN MORE