The Case of the Increasingly Elusive Female Governor
Their ranks have been declining since 2009. Is there any reason to expect a turnaround?
by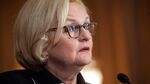 The number of female governors is dwindling. Just five states—New Hampshire, Rhode Island, South Carolina, New Mexico, and Oklahoma—have one, and that's down from a peak of nine women governors in 2007, according to a Pew Research Center report published Wednesday.
Since 2009, the trend line has been inching downward for female governors if you count everyone who has ever held the office, not just those who were elected and served full terms. 
A downturn over five years might not seem like a very big deal, but it's the longest decline since the first woman was elected governor in 1975.  

Is there reason to expect a turnaround anytime soon?
The political analysts at Larry Sabato's Crystal Ball have identified women in four states who are considered potential gubernatorial candidates in the 2015-2016 cycle (not counting New Hampshire incumbent Maggie Hassan). If the stars aligned, four more female governors could bring the total up to nine after the next election cycle. 
But not all the candidates identified say they intend to run. Senator Claire McCaskill said Monday that she will not seek the Missouri governorship in 2016. The Democrat told Kansas City Public Media her decision is a firm "no."
McCaskill said she had eyed the seat because when she was growing up, it was considered more attainable than a Senate seat. 
"One of the reasons that I began wanting to be governor is that when I was a young girl, my mom told me I could and my father told me I could," she said. "Mom was so excited when I got elected to the Senate, and part of her, I think, always thought governor would be more reachable for me than something like the the seat that Stuart Symington held or the seat that Harry Truman held or the seat that Tom Eagleton held in the United States Senate."
If she had run and won, McCaskill would have become Missouri's first female governor. She said "it felt wrong" to leave the Senate just to "check a box."
The Senate may have seemed like a loftier goal when McCaskill was a girl, but now women hold a greater share of the chamber (20 percent) than they do of governorships.
And as for the highest office of all? According to Pew, 69 percent of Democratic women say they hope to see a female president in their lifetime, along with 46 percent of Democratic men. Republicans show less enthusiasm: 20 percent of women and 16 percent of men.
Still, some of the country's most Democratic states, including New York, Massachusetts, Maryland, and California, have never elected a female governor.
Before it's here, it's on the Bloomberg Terminal.
LEARN MORE