The 'Bro' Show: Obama and Cameron's Unified Front
Showing the world they're on the same team, one friendly jab at a time.
by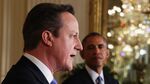 Whenever UK Prime Minister David Cameron comes to Washington, he and President Barack Obama roll out this routine: They poke fun at the UK for long-ago failed efforts to thwart U.S. independence. They laugh about American English versus the Queen's or question the virtues of competing sports customs. Then they proclaim their mutual affection and allied stances.
Here's how the two buddies -- Cameron recently revealed that Obama calls him "bro"–broke in their first joint news conference of 2015, before turning to more serious topics.
Obama: "This month marks a notable anniversary, 200 years since the Battle of New Orleans. Here in America we call it a great victory over a mighty United Kingdom. Our British friends call it a technicality ... Either way, we've long since made up. On this 200th anniversary of a great American victory, we count the United Kingdom as one of our greatest friends and strongest allies."
Cameron:  "On so many issues we see the world in the same way. And most of the time, we speak the same language ... for almost two centuries, after those little difficulties we were discussing earlier, America and Britain have stood as kindred spirits in defending our freedoms and advancing our shared prosperity."
Obama said commentators went "into a tizzy" when Cameron recently disclosed that the U.S. president called him "bro." Obama said that "some explored the linguistic origins of the word 'bro.' Others debated its definition. Several analyzed how this term has evolved over time. Some seemed confused and asked, 'What does Obama mean?'
"So let me put this speculation to rest," Obama said. "Put simply, David is a great friend. He's one of my closest and most trusted partners in the world."
Before it's here, it's on the Bloomberg Terminal.
LEARN MORE