Ben Carson Blames the 'Liberal Press' for Making Him Sound Crazy
The potential Republican presidential candidate airs his grievances with the liberal media.
by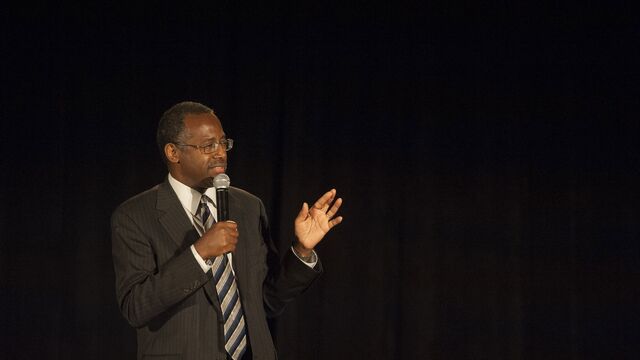 CORONADO, California—Speaking to Republican Party leaders for the first time since apologizing for plagiarizing parts of a book, neurosurgeon-turned-activist Ben Carson delineated many of his most controversial moments, blaming a liberal media for misquoting him and turning him into a caricature.
"Carson says all these crazy things," Carson said at the Republican National Committee winter meeting, mocking the "craziness narrative" about him in the mainstream media. "Every time a liberal press does something about me they say, 'Oh you know, he's the one that said Obamacare is worse than slavery.' First of all I never said that. I said it's the worst thing since slavery."
Carson, 63, spoke Thursday to about 250 Republicans who dined on apple cider braised chicken breasts and white and chocolate mousse in the Hotel del Coronado's Crown Room, a ballroom with a high-vaulted, sugar pine ceiling decorated with four crown-shaped chandeliers.
It was the first chance for many in the room to hear Carson, who said he has visited four to five states per week during the past year while considering whether to run for president in 2016. A renowned surgeon who speaks just louder than a whisper, Carson has captivated much of the party's conservative base. In Iowa, which holds the nation's first presidential nominating contest, he was behind only Mitt Romney as the first choice of Republican caucus-goers, according to the Bloomberg Politics/Des Moines Register Iowa Poll in October.
Carson was warmly received by the Republican crowd that had gathered near San Diego, earning a standing ovation when he started and winning applause throughout his 35-minute speech. Still, he failed to win over many converts. "Oh, no," Joanne Moore, a California Republican attorney in California, said when asked whether she'd consider back him for president. "That would be like throwing me into an operating room. You're going to die."
His lack of experience was among the litany of potential deficiencies, controversies and hurdles Carson tried to address during his speech.
"A lot of people have said to me, 'Now, why would you even think about running for public office? You have no political experience,'" Carson said. "Anybody who says that has not worked in an academic medical center."
"I will confess," he added, "I do not have experience in certain things, like empowering special interest groups, and growing the government, and wasting taxpayers' money, and dishonoring our military, and deserting our allies, and lying to the people and submitting to the PC police. I have no experience in that and I hope to never have any experience in that."
Carson denied he was a plant for a glyconutrients company, saying, "A lot of companies hire me." He never compared the U.S. to Nazi Germany, he said. He denied equating homosexuality to pedophilia and bestiality.
"I never said that," Carson said. "But they have to say that. It has to fit their craziness narrative because they can't find anything else."
Carson did acknowledge that "mistakes were made" in his 2012 book, parts of which were plagiarized. "It was a historical book and it had a lot of quotations," Carson said. "We happened to miss a couple. I take responsibility for that."
Thomas Buestrin, the Wisconsin finance director for Ronald Reagan's presidential campaigns in 1976 and 1980, said Carson was "getting it all out in the open."
"I don't think he should do it every time he speaks, but this is a friendly group," Buestrin said. "I didn't disagree with anything he said."
Carson painted himself as someone who could bring excitement to the presidential race, and inspire new voters.
"I've heard so many people say, 'I've never been involved in politics, but now I think I'm going to get involved. And if you run, I'm going to volunteer, I think I'm going to sell my house,'" Carson said. "I don't want them to do that, obviously."
Before it's here, it's on the Bloomberg Terminal.
LEARN MORE