What Sarah Palin Thinks of the 2016 Republican Field
The former Alaska governor has given hints over the past few years about which possible GOP candidates she supports.
by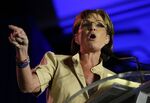 Former Alaska Governor Sarah Palin is not known for being shy with her opinions. Since stepping down from elected office following the Republican presidential ticket's decisive loss to Barack Obama and Joe Biden in 2008, the vice presidential nominee has continued to express her political views, including those on the current crop of potential GOP candidates. 
On Wednesday, for instance, Palin was interviewed by Inside Edition, during which she took a swipe at former Massachusetts Governor Mitt Romney. Asked to weigh in on who she'd like to see as the 2016 Republican nominee, Palin was resolute. 
"We need new energy. We need new blood. We need new ideas," Palin said, echoing the sentiment expressed by non-establishment candidates like Texas Senator Ted Cruz and Kentucky Senator Rand Paul. 
That's not surprising, given that Palin quickly turned sour on the establishment during the '08 campaign, and has taken pains to distance herself from her former running mate, and align herself with the Tea Party, ever since. 
So where does Palin stand on the rest of the prospective GOP field? Her recent statements provide clues on which candidates she does, and does not support. 
Ted Cruz
It's no exaggeration to say that Cruz and Palin have been engaged in an ideological love fest for the past few years. The two politicians have often heaped praise on one another, as Palin did in 2013 in an interview on Fox News. 
"Let someone like a Sen. Cruz have some say in these policies and in this debate," Palin said.  "Don't stifle his voice. ... Let him speak."
Earlier that year, Cruz was the one doing the gushing.  "I would not be in the United States Senate today if it were not for Sarah Palin," Cruz said. 
Rand Paul
Another establishment outsider, Paul is less ideologically aligned with Palin than Cruz, especially when it comes to foreign policy matters. In terms of domestic issues, however, Palin has characterized Paul as one of the "good guys," whom she supports. In a 2013 Fox News interview, Palin also applauded Paul for his stand on the use of drones to target American citizens. 
Jeb Bush
Being anti-establishment makes it hard for someone like Palin to like an ultimate insider like former Florida Governor Jeb Bush, especially on the subject of immigration reform, and what Palin considers "amnesty." At the 2013 Faith and Freedom Coalition Conference, Palin mocked Bush's assertion that comprehensive immigration reform should be a priority, in part, because, as Bush pointed out, "immigrants are more fertile." 
Palin, in turn, described immigration reform as "pandering, rewarding the rule-breaker, still-no-border-security, special-interest-written amnesty bill," adding, "And I think it's kind of dangerous territory, touchy territory to want to debate this over one race's fertility rate over another, and I say this as someone who is kind of fertile herself." 
Scott Walker
Palin, like Wisconsin Governor Scott Walker is no fan of unions. Following Walker's victory in the 2012 recall election, Palin labeled the state's union members as "thugs." In the bitter battle over Act 10, the bill proposed by Walker to restrict collective bargaining and other union gains, Palin traveled to the state in 2011 and sang Walker's praises. 
"Hey, folks! He's trying to save your jobs and your pensions!" Palin told the crowd. "Your governor did the right thing and you won! Your beautiful state won! And people still have their jobs!"
Marco Rubio
Sometimes a single policy disagreement is enough to put a politician on Palin's bad side, and for Florida Senator Marco Rubio, that issue is immigration. During a 2013 radio interview with Fox News, Palin called Rubio and New Hampshire Senator Kelly Ayotte out for "flip-flopping" on immigration reform. 
"I think that every politician should be held accountable for breaking their campaign promises. Kelly Ayotte, bless her heart, she had on her website that her top immigration priority would be to secure the border. 'No excuses' is her quote. No excuses," Palin said on Fox News radio to host John Gibson. "And she was absolutely against amnesty and yet Kelly Ayotte and Marco Rubio and all the others who had said that border security must come first before any talk about immigration reform they turned their back on the American public, so why should they not be held accountable?"
Bobby Jindal
When Duck Dynasty patriarch Phil Robertson found himself in hot water over homophobic comments made during an interview with GQ magazine, Louisiana Governor Bobby Jindal teamed up with Palin to denounce what the pair deemed liberal political correctness. Before that cultural convergence, however, Palin encouraged Jindal to ignore the federal government and push ahead with a plan to build sand berms to protect the coastline in the aftermath of the BP oil spill. 
"Gov. Jindal," Palin tweeted, "to avoid ravished coast, build the berms. Ask forgiveness later; Feds are slow to act, local leadership & action can do more for coast."
Months after Jindal went ahead with construction of the berms, an presidential panel investigating the BP spill declared that the project a waste of $220 million that had collected "minuscule" amounts of oil. 
Rick Perry
In 2011, the former Texas Governor ran afoul of Palin with his executive order to require girls in the state to receive the HPV vaccine.
"Michele Bachmann pointed out that Governor Perry's former chief of staff who then went to work for a drug company who made the drug that would be required of the Texan government to mandate that our young daughters would have to be inoculated against a potential disease from this company that his former chief of staff was lobbying for," Palin told Fox News host Greta van Susteren. "That is crony capitalism. That's part of the problem we have in this country." 
Ironically, a year earlier, Palin had endorsed Perry for re-election, citing, among other things, his propensity to do "what is right regardless of whether it is popular."
(Corrects spelling of Michele Bachmann's name in second from last paragraph.)
Before it's here, it's on the Bloomberg Terminal.
LEARN MORE