Obama Starts a Push for More Worker Benefits
Derek Wallbank and Angela Greiling Keane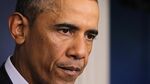 President Barack Obama directed federal agencies to let employees take six weeks of paid sick leave to care for a new child or ill family member as part of a package of initiatives to benefit middle- and lower-income workers.
It's the first step in what the White House says will be a renewed push to expand benefits for U.S. workers now that the economy has moved past what Obama called a "crisis" point to become "stable" and "building momentum."
Obama said Thursday, during a visit to a cafe in Baltimore, that he plans to "beat the drum" for increased benefits Democrats have said should be a right, not a privilege.
The White House said Obama's paid leave plans will be part of the annual State of the Union address he'll deliver to Congress next week.
Obama said he'll push for Congress to pass legislation that would allow workers to earn seven days of paid sick leave a year. The president said short-term costs to businesses would be more than offset in the long run by increased productivity and reduced turnover.
Obama also signed a presidential memorandum Thursday to let federal workers get an advance on their allowed sick days for the birth or adoption of a child. The plan would cost about $250 million this year.
Obama's memorandum also direct agencies that don't currently assist with emergency backup care for children or adults with disabilities to consider putting such a policy in place.
Getting 'Traction'
Similar measures have been introduced by Democrats in every Congress since 2004, to little avail.
"I don't think you should assume because it didn't get traction before that it won't get traction now," Valerie Jarrett, a senior Obama adviser, told reporters on Wednesday.
To spur states to act on similar legislation, Obama will propose spending $2.2 billion in the fiscal 2016 budget to support state efforts to establish paid leave programs.
According to the United Nations' International Labor Organization, only two countries in the world don't have some form of legally protected, partially paid time off for working women who have just had a baby: Papua New Guinea and the U.S. The administration estimates 43 million private-sector workers in the U.S. are without any form of paid sick leave. Only three states -- California, New Jersey and Rhode Island -- offer paid family leave.
The lack of support for parents crimps the job prospects of many U.S. women in the first half of their working careers, Bloomberg Businessweek reports in its Jan. 19 issue.
Obama's request to Congress comes as both parties look to position themselves favorably with parents ahead of the 2016 elections. At least four senators, Republicans Marco Rubio, Ted Cruz and Rand Paul, as well as Democratic-leaning independent Bernie Sanders, have said they're considering presidential bids.
Parents split their vote in the 2012 presidential election, according to exit polls. Obama won 56 percent support from mothers and Republican Mitt Romney took 55 percent of dads.
Before it's here, it's on the Bloomberg Terminal.
LEARN MORE